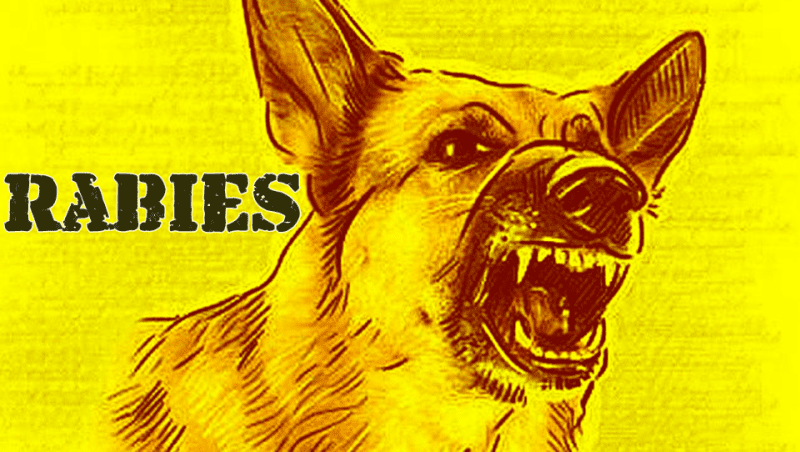 Rabies written by Larry Griffith
As a boy in the early 1950's I lived on Squirrel Run in Elliot Co. KY. It was called squirrel run because their were so many of them. A man by the name of Johnson lived on the farm in the 1870's and 1880's and paid a bounty on them because they were eating his crops. There is still plenty of squirrels and animals we didn't have back then like turkey, deer, coyotes, and an occasional bear. One thing we did have was mad dogs.
The old house we lived in sat high on one side and low on the other side with the windows low. It made you feel like something was going to jump through one of those low windows. Dad worked away in Detroit which left Mom, baby brother, a brother 1 yr. younger than me, and myself for Mom to take care of. Us boys were too young to be of help so everything fell on her.
My brother and me played out all the time. We really enjoyed gathering beech nuts, and storing them in the Doan pill containers, playing with the puppies, and running our tootle models. The tootle models were nothing but big brushy limbs we drug on the dirt road to make the dust fly. This is just a guess but we must have heard the older folks talk of T-model Fords. Another thing we did was pour sand down the yellow jacket nests. That was a sport to us, and sometimes we got stung. The best thing we had was our pet dog Ole Buddy. I believe he was part shepherd and was our constant companion.
At night dogs would get under the house and fight. Mom would take the little 22 single shot rifle and shoot through the floor. I don't know if she ever hit one, but they would leave. I remember one time her shooting at one out the front door with the single barrel 12 gauge. There was much rabies at the time.
Henry Salyers lived about half mile up the gravel road and he would come down of the mornings with his big double barrel shotgun and check things out. I don't remember him finding any dead dogs or mad dogs but his coming made us feel better.
Dad quit his job in Detroit and came home. He got a job cutting virgin white oak about 2 miles up the holler we lived in. Dad told me a few years ago that some of the white oaks were over 3 foot through.
One day the owner of the timber company, a preacher from TN, was driving down the holler and Mom waved him over to the house and gave him the shotgun and shells. Ole Buddy was mad. He shot and killed him there in the road while we watched. I think he was trying to drink out of a mud hole. Dad came home from work, took the shotgun and killed all the puppies. He wouldn't let us watch but we heard the shots.
All of us had to take rabies shots. I don't remember all the details, but we went many times to the doctor's office. The shots hurt and my brother and me tried to get away from the nurse, but they always caught us.
Oh, I just thought about the new dog Dad got us. He looked just like Ole Buddy and we named him Buddy too. He was an ill natured thing and wouldn't let you near him while eating and didn't want to be petted. He was not Ole Buddy!
—-
Larry sent me the story about Ole Buddy a few months back. I was reminded of it this past week when a friend's daughter was bit by a dog thought to be rabid. Not only do those shots hurt they are expensive too! I always heard a man down the road had rabies as a child and survived it. Most folks who told the story would end it by saying and that's why he's crazy as a loon.
I also read a scary account of a fox attacking a man who was sitting on his porch last week in GA. As violent as the attack was described I'm positive it would have killed a child or someone who was more feeble than the man who fought it off.
Anothony Cavender offers the following information about rabies in the book Folk Medicine in Southern Appalachia.
"Many Southern Appalachians believed that snakes and dogs were particularly dangerous during the dog days of summer, when snakes became aggressive and dogs went mad. Remedies for snake and mad-dog bites were essentially the same. Magical cures for mad-dog bites were killing the dog, pulling out one of its teeth, and placing it under a rock; placing the hip bone of a deer on the wound; and killing a chicken, extracting its gizzard, and then hiding it. Another remedy was to kill the rabid dog and apply some of its hair to the wound (thus the phrase "hair of the dog that bit you," which is used today in reference to a hangover cure in which one drinks some of the same alcoholic beverage that one got drunk from). "
Tipper