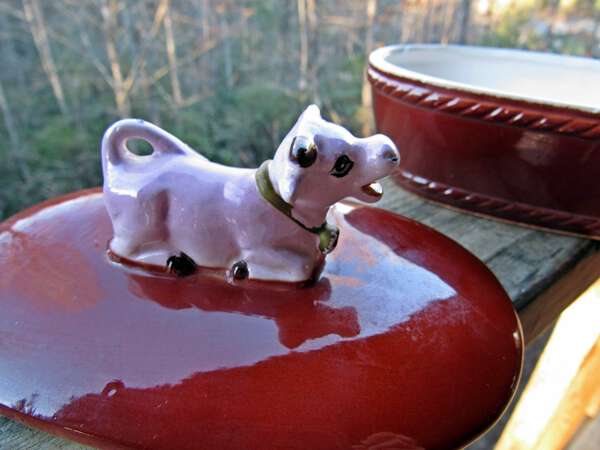 I greatly enjoyed all the comments left on the post about the cow that kept turning the light on. Nice to know many of you need a little help with your eyes too. The cow I'm sending out is the one you see in the photo. I'm not sure where I picked up the little covered dish but I've had it for quite sometime. It seems totally appropriate that the handy dandy number generator picked Blind Pig reader Zelma as the winner. This is what she said:
"My hubby and I had beef cattle for 23 years. Some people say cattle are dumb, but I've seen enough to know that is not true. They can be smart and wily, so I'm not surprised to hear of a cow that turned the lights on and off. I, too, have the drugstore readers. I keep a pair in most rooms, so I don't have to worry about carrying around a pair, then laying them down and forgetting them. Both the eyes and memory have good days and bad days! I collect cow things, so a BP&TA item would be cherished."
——————–
Here's 2 more Blind Pig and The Acorn posts about cows-jump over and read them if you have time!
Appalachian Sayings – Fly Over A Field To Land On a Cow Pile
Tipper