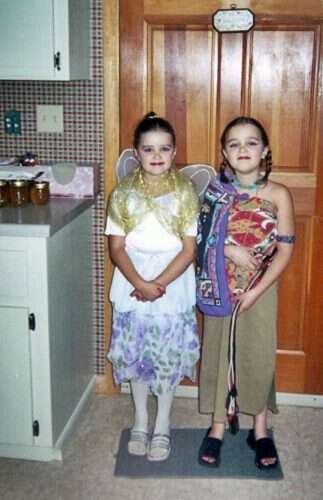 Chatter and Chitter –  Wearing homemade Halloween Costumes
I Have turned to a Witch written by Mary Lou McKillip
Some seventy one years ago in October of 1945 my Mama, Miss Julie as she was called, made me a witch costume for Halloween. I was only three years of age and Mama was still reading stories to me. She had just finished the story of Hansel and Gretel and the big bad witch of the deep forest.
Mama was a very good seamstress. She made the costume out of one of her old black dresses and made a face with a long nose with a wart on it out of stockings. She painted some dark slanted eyes and lips with crayons and lipstick. She made a black hat out of felt lined with cardboard to make it stand up. The costume looked liked the witch in the story to a T, especially to this three year old.
We were anxious to try the costume on before the others children took me trick or treating through the neighborhood. Mama dressed me and stood me up on the dresser near the mirror to let me see myself. I started screaming and tearing the costume off saying, "I have turned to a witch I have turned to a witch!"
I would not put the costume back on and did not go trick or treating with the others. They got one more good laugh about me thinking I really had turned into the old witch. I believed I had turned to the witch in Hansel and Gretel because the bad witch of the deep forest had put a spell on me.
————————————–
I hope you enjoyed Mary Lou's Halloween memory as much as I did. It so reminded me of something Chatter or Chitter would do. In fact the very first time I took the girls trick or treating Chitter refused to dress up. She wasn't scared like Mary Lou, she just was not going to put on any weird clothes. So Chitter went as herself and Chatter went as a fairy.
We hardly ever bought costumes, like Mary Lou's mother, I would come up with something from things we had around the house. The year of the photo above we had an Angel and Pocahontas.
Tipper