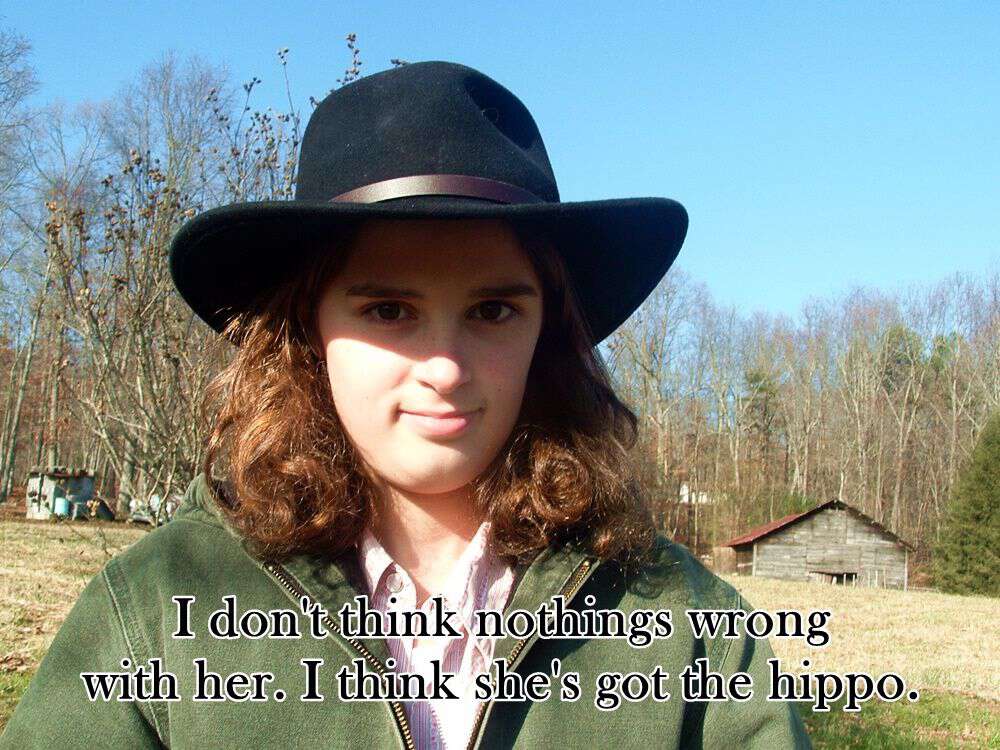 A few month's back a friend asked if I knew any other sayings for having the hippo. I didn't even know what the hippo was so I couldn't really come up with any other names for it.
I've known a few people who did indeed have the hippo…I just didn't know that's what it was called. Hippo is slang for hypochondriac.
I looked in my dialect reference books to what they had to say about the hippo.
"The Dixie Dictionary" edited by Thomas. W. Howard
hippoed adj suffering from an imaginary ailment <That poor ~ old woman.>
"Southern Mountain" Speech by Cratis D. Williams
hippoed adj descriptive of ill health or extreme fatigue. (I feel plum hippoed.)
"Hill Talk" by Ben Brouke
Hipercondrac: Hypochondriac
There is a hipercondrac in my family.
"Mountain Range A Dictionary of Expressions from Appalachia to the Ozarks" by Robert Hendrickson
hippoed Suffering from an imaginary ailment, the word deriving from hypochondria. "There goes that pore hippoed woman."
"Dictionary of Smoky Mountain English" by Michael Montgomery
hippo verb 
A verb To be inclined to hypochondria; hence hippoed = incapacitated by, or preoccupied with, an imaginary or pretended ailment (esp as an excuse to avoid work), or by a feeling of vague depression or uneasiness.
c1959 Weals Hillbilly Dict 10 hippoed = neurotic, marked by hypochondria. Obsessed with troubles and ailments. 1967-68 DARE (Brasstown NC, Gatlingburg TN). 1974 Russell Hillbilly 41 Folks described them as "Hipp-oed". 1975 Chalmers Better 66 The old folk say such a one is hippoed. 1994 Montgomery Coll. I reckon I'm just hippoed (Ogle). 1993 Walker Life History 71 Dolly the trick horse got hippoed and couldn't' get up.
B noun (usu plural)
1976 Garber Mountain-ese 41: = feigned illness . 1982 Slone How we Talked 103 = thinking you are sick, but you really are not.
I asked The Deer Hunter if he'd ever heard the words hippo or hippoed. Like me, he had never heard either one. Hoping you'll leave a comment telling me if you've heard the words before and if you know any other words that fit the definition.
Tipper
Subscribe for FREE and get a daily dose of Appalachia in your inbox