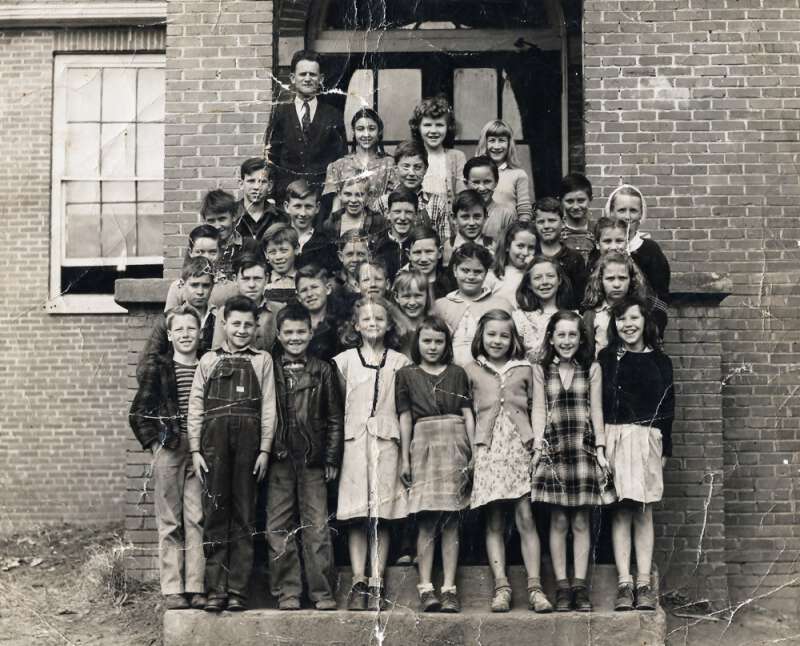 Martins Creek Elementary 1945 – Pap is the first boy in the second row on the left 
This school year has been especially hard on students in our area, there has been much sickness. It started back before Christmas and seems to still be making its way back and forth across the county. There was confirmed cases of flu, pink-eye, strep-throat, and a mean strain of stomach virus going on so fast and thick that three local schools shut down for a few days to let the germs settle and the students and staff get better.
There's almost always an outbreak or two of lice in schools each year. I remember being in the 6th grade when the health department came around to check. I always wore my hair in a pony-tail, but hadn't quite mastered the technique of putting it up myself. The lady took my hair down to look at my head. She never offered to help me put it back and of course Granny wasn't there to do it for me. I was mortified.
Another illness or condition that was often talked about back in those days was the itch. I never knew anyone that had the itch, but every year it seemed there was a rumor about some poor kid having it.
The only scratching I ever seen was done by folks who had been eat up by chiggers or caught poison oak from playing outside in the brushy areas.
I suppose folks who truly had the itch actually suffered from scabies, which is an aggravating skin aliment caused by mites.
The cures for the itch back in the days before modern medicine took over included:
boiling poke roots and adding the brewed tea to your bathwater
slathering the body with lard and in some cases sulfur was added to the lard
rubbing the body with kerosene
I've read accounts from folks who took the poke bath remedy, they said it felt like they'd been set on fire. I'm sure the kerosene method would feel the same. After submitting to any of the remedies mentioned it was customary to wear long handles afterwards to hold the medicine close to the skin.
I started writing this post about about the illnesses our local schools have endured this year and somehow went down the road of lice, scabies, and my own elementary days of going to school in the same big brick building Pap did.
The old building isn't there anymore, it burned to the ground a good 20 years ago, but the children who walked the creaky hallways and went outside to use the restrooms that were always cold still live in my mind.
I can never hear about lice or the itch that I don't think of a girl from those days.
The girl was from a poor family, a family of kids who were often accused of having some contagious aliment. She was a good 4 years older than me if not more. One evening as we stood in the bus line she looked down at me and said "I know you're a witch cause your eyebrows are growed together." I didn't take offense to what she said, even then I knew well and good I had been blessed with Pap's thick eyebrows and I knew he certainly wasn't a witch. I think she regretted telling me about my eyebrows because she quickly added "Don't worry mine are growed together too."
If I could go back to that day I'd ask her who told her about eyebrows and witches and I ask her if they told her any other old sayings? And if I could go back, I hope I'd have the gumption to go out of my way to be nice to her and her siblings, because from this vantage point I can clearly see they lived in a drought when it came to showers of kindness.
Tipper