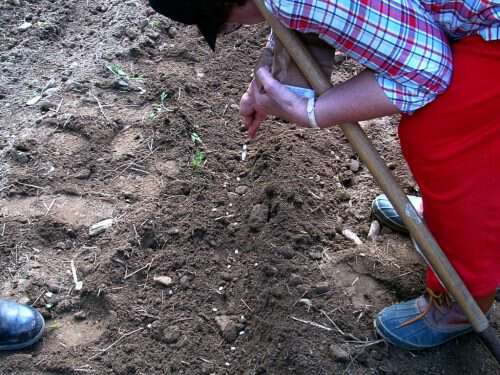 Each year-the closer it gets to planting time the more excited I get. Seems I'm doubly excited this year since Hometown Seeds has signed on to sponsor my garden. I've been studying what I want to do this year-changes I want to make, new things I want to try, and trying to remember the things that worked last summer.
Some of you may remember, last year, we put a load of chicken litter on the garden-and for the first time in many years I started most of the plants we usually buy-from seeds.
The litter-greatly improved the gardens-I think I had a bumper crop of most everything. The seeds-were only a partial success. I enjoyed making the newspaper cups-and all of the seeds sprouted and grew-but only the green peppers made it too produce in the garden. I was still getting green peppers when the final killing frost came last fall-but not one of my tomatoes started from seed made it.
I knew going into my seed growing enterprise I'd be fighting one main problem-light. I live on the North side of the mountain where there isn't enough natural light shinning through my windows-and I don't have any grow lights. This year-I'm starting my seeds just like I did last year-but with a little more hope-since after they sprout-they'll be traveling just a few miles down the road to finish growing in a green house.
During these cold snowy winter months, I've tried to read up on some gardening subjects that I want to incorporate in my garden this coming summer.
It's no secret I'm fascinated with the theory of planting by the signs. This year-I've made an easy to read calendar of the right planting days-and I'm determined to plant my entire garden by the signs.
I realized last year-I don't really know the difference between all the seed types-hybrid, heirloom, organic, open pollinated, etc. I asked Dean, a farmer I truly respect, to explain it all to me in simple terms-he did better than that he wrote me an article. I'll be sharing it with you in the coming days.
Last year, WKF told me I should check out companion planting. I got the book she suggested and after reading it-I want to try planting veggies that like each other together and see if it makes a difference.
What about you-got any new plans for the garden-or maybe you tried out something new that worked great last summer? I'd love to hear about it-leave me a comment.
Tipper