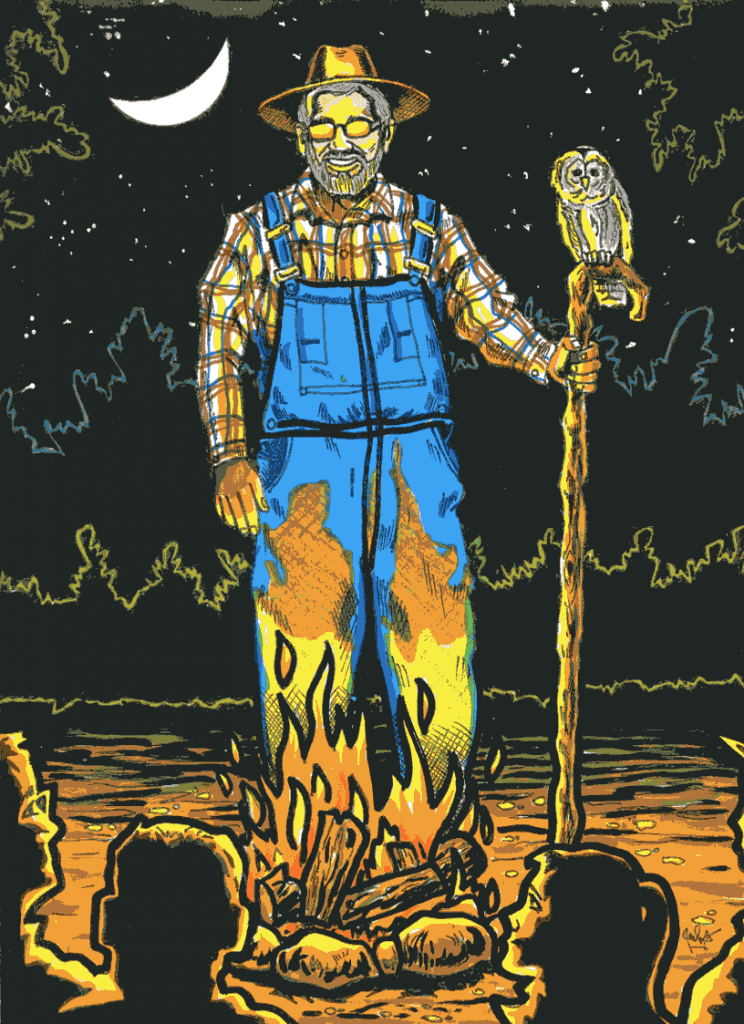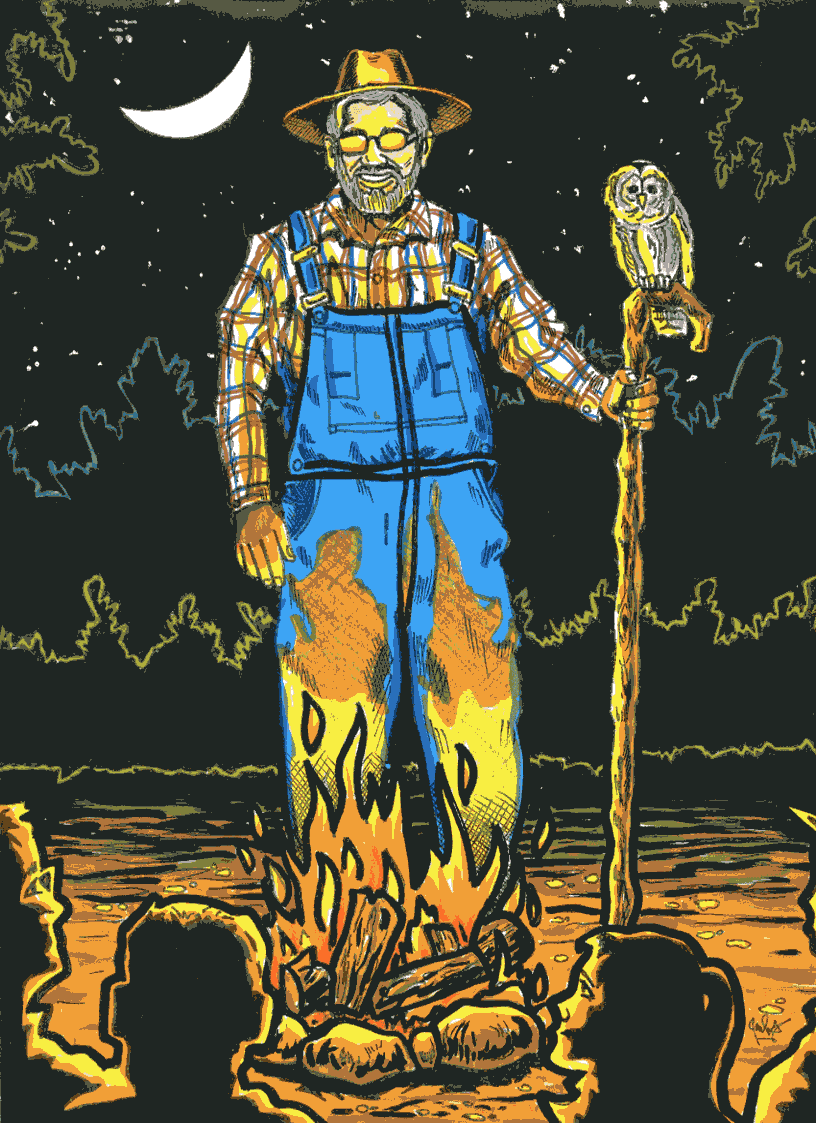 Over the years Keith Jones wrote more than a few guest posts for the Blind Pig and The Acorn. Many of his stories were shared around Halloween as part of my Spooky October series. Keith also wrote about his parents, grandparents, and great aunts who greatly influenced his life while growing up just over the Georgia line from here. Keith's dear mother, Ethelene Dyer Jones, has also been a frequent guest post writer.
You may remember last October I gave Keith's storytelling event at the John C. Campbell Folk School a shout out. I was fortunate to attend the event. Keith was a great storyteller as always. He had the crowd hanging on every word. He also told the crowd about the Blind Pig and The Acorn. I so appreciated his kind words about the blog and me.
I didn't know until about two weeks ago, Keith passed away shortly after the show from a massive heart attack on November 16, 2017.  Along with being a storyteller he was also a Baptist minister for 45 years serving at Morganton Baptist Church, The North American Mission Board, First Baptist Church of Sandy Springs, GA, Bethabara Baptist Church of Athens, GA, Poplar Springs North of Dublin, GA and was a Member of The Sons of Jubal.
I can't imagine the heartache his family has gone through, is going through. Keith left this ole world much to soon and my heart goes out to his family.
In early January there was another loss of life connected to the Blind Pig and The Acorn. The Rowland Zimmerman Family Band was kind enough to learn, perform, and upload two of Pap's original gospel songs, and talented son, Ryan, even lent his steel guitar playing to one of our recordings to be released in the future. We were all saddened to hear of the passing of Rhoda Zimmerman, beloved wife and mother of the family.
Paul and Katie filmed "Oh Come Angel Band" in honor of Rhoda and I'd like to also dedicate the video to the memory of Keith Jones who was a true friend of the Blind Pig and The Acorn.
I've always liked the song, its hard to see how anyone couldn't like it or at least acknowledge the moving sentiment behind the words. Since Pap died the song has taken on more significance for me. I'm sure its because he told Granny he'd be waiting in the shallow water on the other shore.
I know I'm nearing holy ranks of friends and kindred dear I brush the dew of Jordan's bank the crossing must be near. 
I know Keith and Rhoda will be there too.
—-
From Keith's mother, Ethelene Dyer Jones:
Blind Pig and the Acorn fan and contributor, the Rev. Elton KEITH Jones of Epworth, Ga, passed away on November 16, 2016 at his home with a massive heart attack.  For over 45 years an ordained minister of the gospel, this 65-year old minister, writer, story-teller, friend-to-many, will be sorely missed.
Hundreds attended his viewing at Akins Funeral Home, Blue Ridge, GA on Saturday evening, November 18, from 5 – 9 P. M.  and signed the guest register, giving deepest condolences to his family left behind to mourn his passing:  His widow, Debra (Debbie) Sevigny Jones; sons Brian David (wife Amanda), Nathan Andrew (wife Kayla) and Matthew Collins (wife LaTasha); his mother, Ethelene Dyer Jones; and his sister, Cynthia (Cyndi Jones) Berenguer (husband Carlos); twelve grand children who called Keith G-Daddy;  aunts, uncles, nieces, nephews, cousins (galore in number) and a host of friends and those still alive in churches he pastored, was early-on in his ministry, a minister of music and youth and associate pastor, then a pastor in Georgia (as well as those, during seminary days in Kentucky and Indiana).
He retired in 2014 at age 62 due to some heart problems then, and back surgery.  He did not want his "temporary disabilities" to impinge upon his duties as an active pastor.  He was still involved in pastoral ministries as an interim pastor, a Christian writer, teacher, speaker, and contributing articles and Bible studies through Lifeway and other publications.
He was a storyteller and taught Storytelling at the John C. Campbell Folk School in NC, and elsewhere.   He continued to be a speaker and entertainer (in addition to telling stories, playing his guitar and singing)  at church gatherings and banquets in a broad geographic area.  Across the state line from his home in Epworth, GA.
He had also been a minister of music, and was noted for his bass solo (and harmony) voice.  He was a member of the Blue Ridge First Baptist Church Men's Quartet, and an active, participating member of the Georgia Baptist Convention's "Sons of Jubal," noted men's singing group.
His thesis at New Orleans Seminary from which he graduated was on the last book in the Bible, "Revelation."  His manuscript (still unpublished) has been shared with many people and in the classes on Revelation he taught in his own churches and to churches to which he was invited to teach the last book in the Bible.
On others of his writings, he was co-author with his mother of a book of poems, "Mother and Child Reunion," published in 1995.  He also was author/compiler of a history book, "Images of America:  Blue Ridge, GA."
At the time of his death, he was in the process of writing a book on the Art of Storytelling and compiling a volume of his own stories he had made popular by his own appearances at venues throughout north Georgia and elsewhere.  He was especially noted for his impersonation of Johnny Appleseed, a presentation he made to school groups throughout the North Georgia area.
He was a founding member of the Byron Herbert Reece Society and active in getting the Reece farm at Blairsville declared and opened as "The Byron Herbert Reece Farm and Heritage Center, a popular venue now on the Southern Literary Trails listing of important historical/literary places to visit.  He served as the second president of the Byron Herbert Reece Society, and edited the Society's blogspot until his death.
As an historian, he also succeeded his mother as historian for the large Dyer/Souther Heritage Association, and had for the past two years been editor of that family association's newsletter, "The Chronicle," which his mother began in 1990, and of which she was editor until she retired from the position in 2015 and Keith assumed editorship.  He and his mother also had an editing business, called EJ Productions, which was their attempt to help budding authors get their manuscripts in shape to submit to a publisher.  They founded this joint business in 1995.  Keith, especially, was expert at layout and design, for he worked to edit "The Royal Ambassador" magazine when he was an employee/missionary at the North American Mission Board in Atlanta.  Later, after his retirement in 2024, he worked part-time at "American Printing" in Blue Ridge, GA in layout/design.
He loved the Lord, his family, people, church work, history, reading and writing.  Thanks be to  God for the life and contributions of Elton Keith Jones (born April 29, 1952 in Macon, GA, died November 16, 2017 in Epworth, GA).
His memorial service (attended by a full house) was held at Blue Ridge First Baptist Church Sunday afternoon, November 19, 2018, where he and Debbie had current membership and where Debbie is pianist. Keith was active as leader of children's groups, in missions projects and mission trips, as leader of the children's choir at the time of his death, and sang bass in the church choir and in the church's Men's Quartet.  Eulogies were given at his Memorial Service by the Rev. Claud Mathis, Director of Morganton/Mountaintown Baptist Association and by the pastor, the Rev. Bob Richardson.  Keith's son, the Rev. Matthew Jones, presided at the memorial service and gave "Remembrances," with all three sons speaking a tribute to their father and giving significant "Remembrances" of growing up in a pastor's home.  Middle son, Nathan, a professional musician, played and sang an original hymn he had composed for his father at the Memorial Service.  His mother, Ethelene Dyer Jones, was asked by his sons to also give "Remembrances," and to read three of her original poems as a tribute to her minister son.
Interment followed at the Epworth First Baptist Church Cemetery, Epworth, GA.  after the interment service, First Baptist Church, Blue Ridge, hosted a meal for family members and the host of cousins and other kin who attended Rev. Jones's Memorial Service and burial.  Kindnesses, condolences, and gifts in memory of Rev. Keith Jones are gratefully appreciated and are being acknowledged still, as they are received in his memory.  Thank you for a loving, caring surrounding of friends and relatives.  Those of you who wish to read his obituary and sign the guest book may find it at the online site of Akins Funeral Home, Blue Ridge, GA.
—-
Tipper
*Source: Rev. Keith Jones of Epworth, Georgia | 1952 – 2017 | Obituary
Subscribe for FREE and get a daily dose of Appalachia in your inbox