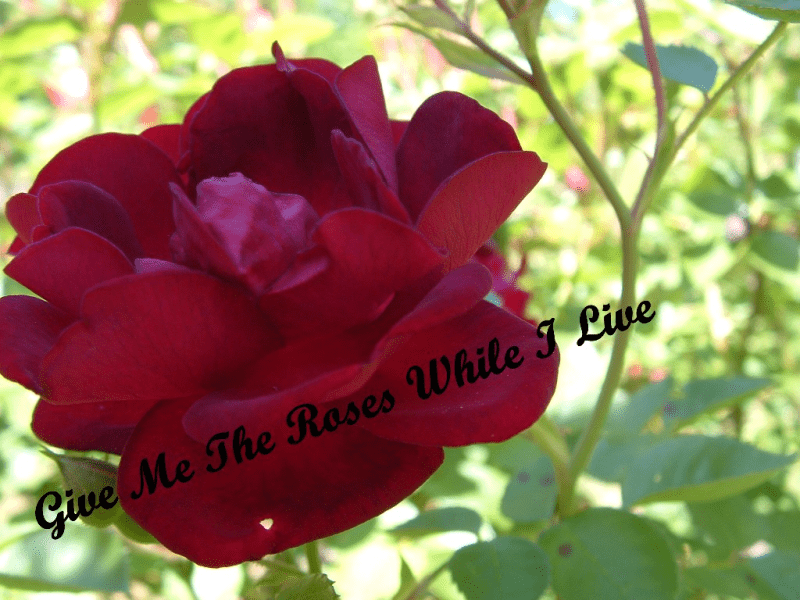 I grew up hearing the old song Give Me The Roses While I live. Most folks associate the song with The Carter Family. Sometimes AP Carter is even given credit for writing the song, but James Rowe wrote the words and R.H. Cornelius came up with the tune.
In The Bluegrass Gospel Songbook Wayne Erbsen has this to say about the song:
James Rowe, who wrote the lyrics of "Give Me The Roses Now" was perhaps the most prolific gospel lyricist of all time. By his own guess, he wrote the lyrics to over 20,000 songs. If we take him at his word and then knock off 90% of them, that's still 2000 songs, no mean accomplishment! His other gospel classics include "If I Could Hear My Mother Pray Again" and "Love Lifted Me." An Englishman by birth, Rowe made his home in New York State but eventually moved to Lawrenceburg, Tennessee, to work with James D. Vaughan. Not to take anything away from James Rowe, but he wrote only lyrics not melodies. For "Give Me The Roses Now" he collaborated in 1925 with R.H. Cornelius. It was first recorded in Camden, New Jersey by The Carter Family on June 17, 1933. Artists who have recorded it include Jimmy Martin, Ralph Stanley, and Wayne Erbsen. It is sometimes called "Give Me The Roses While I live."
You can hear Pap and Paul's version of the old song below.
Hope you enjoyed the song-I especially like the harmony!
For folks who can pick up the station, Wayne Erbsen hosts a Sunday night radio show on WCQS called Country Roots which is dedicated to bluegrass and old time country music. You can go here to see the details: WCQS Country Roots.
Back in the day when I lived in the Canton area of Western NC, I would tune into Mr. Erbsen's show on Sunday nights and feel a little less homesick as I listened to the music. Once I even got to hear Pap and Paul live on his show.
As me and The Deer Hunter sat and listened to the show, I remember thinking how after it was over Pap and Paul would be driving by Canton on the interstate making their way home to Brasstown in the dark.
Tipper