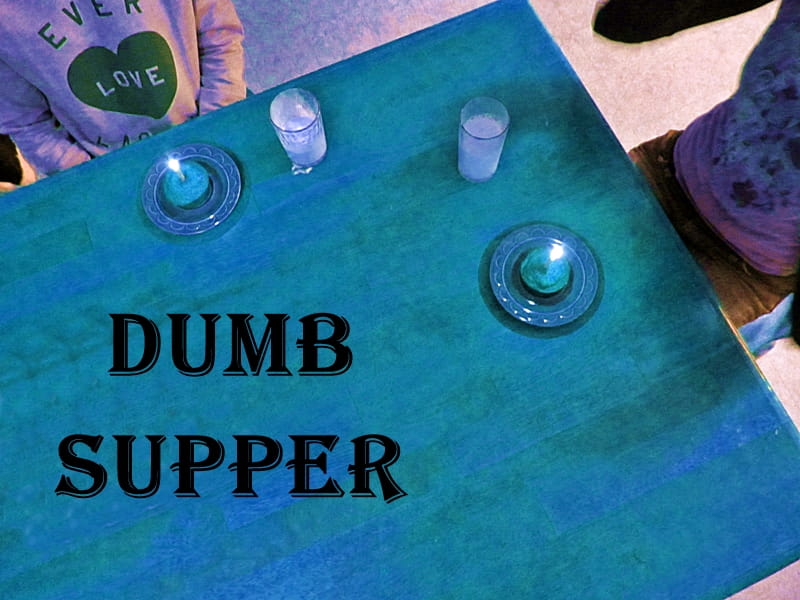 "My little grannie on mama's side used to entertain us kids with stories of young girls looking to get 'em a husband setting "Dumb Suppers." They would prepare the meal and table silently, set the table backwards (silverware arranged backerds, etc.), and then await the arrival of their, as of yet unknown, swain…this resulted in many "quare" things like big night bugs flying in and biting off the flame of the lamp (indicating death perhaps), ghosts and haint-like apparitions, and one time two handsome soldiers in Confederate grey eating, kissing the girls goodbye and disappearing–and this was in the late 1800s!"
—Mel Hawkins
—-
"…the custom of "dumb suppers" during which young girls prepare a meal in total silence, then sit down to eat it with an empty chair between each two girls. If a man comes in and sits in one of the chairs it is thought that he will marry the girl he sits next too."
—American Regional Folklore: A Sourcebook and Research Guide edited by Terry Ann Mood
—-
"The purpose of a dumb supper is for a young, unmarried woman to see the 'spirit' of the man that she is going to marry. The meal is prepared in complete silence~no talking (dumb) whatsoever. Most people believed that you had to walk backwards while cooking and serving the dumb supper.
When the dinner is done, an extra place is set at the table and the young girl (or girls if done in a group), open all the windows and doors and take their place at the table and bow their head. Sometimes all the lights are blown out, as well. The 'phantom' husbands are supposed to enter in silence. Each girl should be able to recognize the 'husband' that sits down beside her. If no one appears, it means that she will never marry. If only a dark blob appears, it means she will die within the year.
There are quite a few versions of this 'supper'. Some involve making the dinner using thimblefuls for ingredients instead of spoons and cups. In some versions, they see the 'reflection' of their husband's face in their empty plates."
—Mary Briggs
—-
"I have heard my mom and aunts talk about dumb suppers. My Aunt Irma told me that her and two or three friends started a dumb supper one time but they got too scared to go through with it. Everything had to be done backwards, you had an empty chair beside everyone for their future husband to sit in. No one could talk while this supper was being prepared. Maybe I have heard about this because I am a lot older than most of you."
—Vera
—-
Although I've heard and read quite a bit about dumb suppers, I've never known anyone who actually participated in one.
I've already found my mate so there's no need for me to test the folklore and Chatter and Chitter could never participate in a dumb supper because they could NEVER be silent 🙂
Tipper
Subscribe for FREE and get a daily dose of Appalachia in your inbox