Today's post was written by Chatter.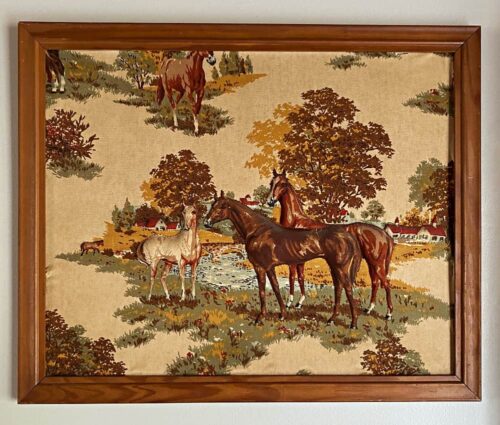 One of my favorite things in my new house is actually pretty old. Granny made the piece back before mom was even born.
My first memory of seeing it is when mom had it hanging in what we called the dangerous room. It was really our guest room, but since there were things my sister and I could get into our parents started calling it the dangerous room when we were toddlers and the name stuck.
When I was in high school I moved into the dangerous room so that we could both have our own room. I liked the piece so much I ask mom if I could keep it on my wall.
I asked Granny to tell me about making it. She said "Why that ole thing? I can't believe yall still have it."
She went on to tell me at the time she made it her and Pap were living in a rented house in Murphy. She said it was all the rage at the time.
Women would buy a piece of printed fabric, sew it to another piece of fabric and then sew around certain items in the scene and stuff them with cotton to give it a 3-D effect. Once that was done it was attached to a board and framed.
Granny said back then about every house had similar artwork. She said most women chose animal or mountain scenes to create the art.
After talking to Granny, I did a couple of online searches and found a few similar ones for sale.
It's one of my favorite pieces of art because I love the colors, the horses, and the whole vintage look of it. The piece also reminds me of Granny because she made it, but also of mom because she liked it enough to save it and put it in her home when Granny wanted to discard it.
Do you remember this type of artwork?
Chatter
Last night's video: Simple – Quick – Chocolate Cake – So GOOD with Ice Cream!