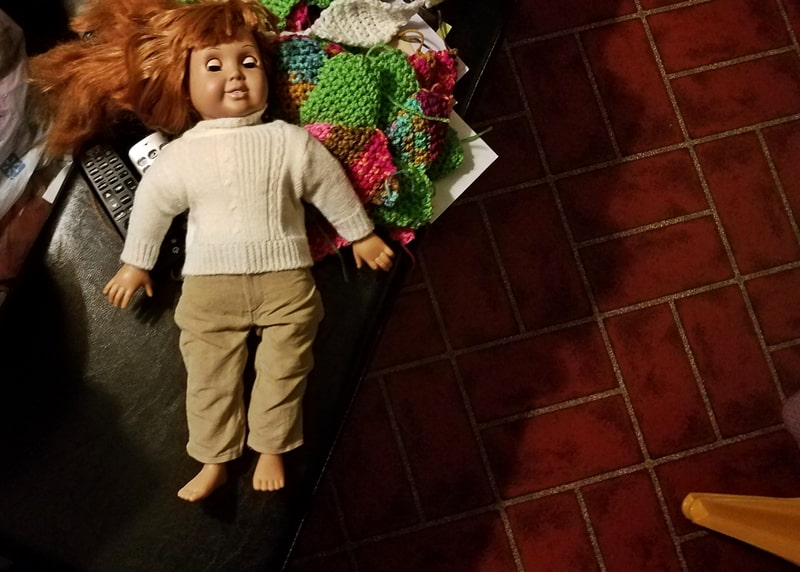 For the past year it seems we've been in a constant battle with all the stuff in our basement. Chitter's ever burgeoning jewelry business has her needing more and more room for supplies and equipment.
During our last big clean the girls and I went through all their old keepsakes to see if they still wanted it all. We found several dolls, which they truly never cared for. Chitter and Chatter always chose stuffed animals over baby dolls.
They'd kept the dolls because Granny gifted them over the years. We all decided a good thing to do with the dolls was to take them to Granny's so her great granddaughter could play with them when she visited.
A week or so later when I stopped to see Granny after work I noticed one of the dolls laying in front of her chair. I said "Oh did little sweetie play with it when she was here over the weekend?" Granny said no she wasn't interested in it.
Granny got quiet for a minute or two then she said "You know when I first seen those dolls, there was three of them, and I wondered how in the world I'd come up with the money to buy them for the girls." (Granny always bought Chitter, Chatter, and my niece the same things.)
She went on reminiscing "I wanted those dolls for the girls so bad. I remember I finally made a quilt and they bought it for Robbie (my sister-n-law's sister who was an invalid). I spent every dollar of that quilt money on those three dolls, it was just enough to pay for them and I was so happy."
I could tell Granny was still pretty happy over those three dolls, even though the two at my house never really got played with much, and even though the three girls she bought them for are now young women trying to make their way in the world.
Tipper
Subscribe for FREE and get a daily dose of Appalachia in your inbox