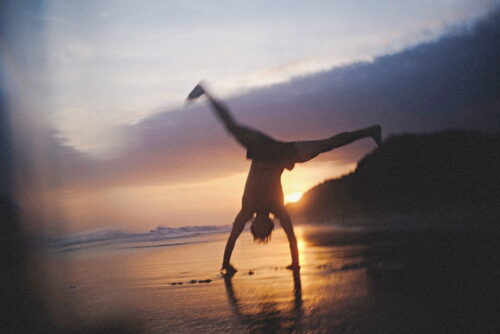 somerset noun A somersault. Also called tumbleset.
1849 Lanman Alleghany Mts 50-51 Vandever had obtained a fair hold of the buck's antlers, when the twain performed a somerset into the pool below. 1934-37 LAMSAS Appal (Madison Co NC, Swain Co NC). 1956 Hall Coll (Hurricane Creek NC) We rolled and turned somersets till we got to the bottom of the hill. 1967-68 DARE Survey (Brasstown NC, Maryville TN). 1969 GSMNP 46:3 If they start to turn the yoke on you…just let your leads turn a somerset if you can. 1997 Montgomery Coll (consultants from the Smoky Mountains agree that somerset was traditionally a more common term than somersault).
[Web3 somerset n alteration of somersault by influence of Somerset, the county in England; DARE somerset n chiefly South, South Midland]
—Dictionary of Southern Appalachian English
---
When I was growing up I loved to turn somersets! I could entertain myself for hours out in the yard pretending I was a real life gymnast running and tumbling across the grass as fast as I could go.
I also loved to put one bent leg over the bar and do a series of flips on the monkey bars at school. In those days Martins Creek School had a set of three bars connected together. There was a small one, a large one I couldn't reach without climbing on the first one, and a middle one I could jump and grab. I loved to use the middle one for my daring flips. I say daring because I can't imagine trying it today, but if memory serves me right most all of us girls did them.
I was never brave enough to hang from my knees and swing back and forth until I could finally turn a somerset and land on my feet like some of the others.
The upper playground had a set of those old metal swings. A couple of the boys would swing as high as they could and then turn a somerset out landing on their feet while the rest of us looked at them in awe and jealously for not being able to do it ourselves.
I can just hear Pap telling a big story about someone turning a somerset when they didn't intend to 🙂
Last night's video: Giving Pep Talks in Appalachia – Work Related Sayings to Encourage you!
Tipper
Subscribe for FREE and get a daily dose of Appalachia in your inbox