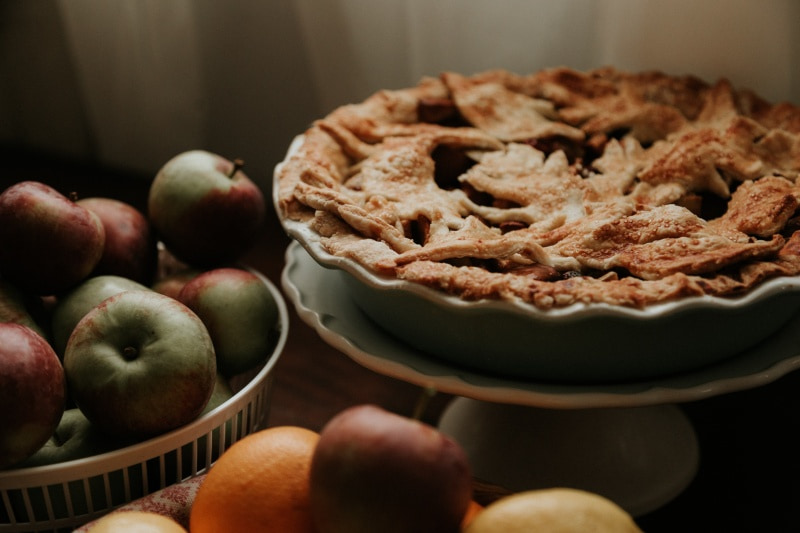 Grandma lived at a time when a juicy, crisp crusted homemade apple pie broke down a man's resistance to matrimony a heap sight easier than a pretty face or a pretty dress.
She always said it was her apple pie and not her looks that led Grandpa into popping the question and getting hitched up. "We'd been keepin' company for close to a year," she once told my mother, "and Rufus hadn't so much as hinted marriage when he come to the house one Sunday for dinner and I brought an apple pie to the table and Ma told him I had baked it. He told Ma he was mighty fond of apple pie, I remember he ate two pieces and said it was the best apple pie he ever ate. That evenin' he asked me to marry him. Said seein' as how I could make a good apple pie, he reckoned I was the girl for him."
Grandpa never had occasion to rue the day. For grandma kept him happy for 60 years. She kept him happy with her cooking. Especially with her homemade apple pies—fresh apple pies and dried-apple pies.
When Grandpa passed on in 1926 at the age of 83, Grandma never made another apple pie. She took to her bed the day he died. Three weeks later she went to meet him.
—John Parris – Excerpt from "How an Apple Pie Assisted Cupid"
---
When I read "How an Apple Pie Assisted Cupid" I thought it was the perfect love story for Valentine's Day.
Tipper
Subscribe for FREE and get a daily dose of Appalachia in your inbox