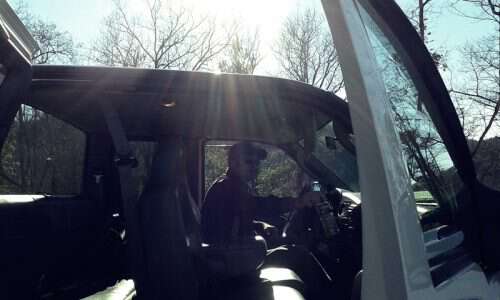 Take a shine to = develop a liking for
I took a shine to The Deer Hunter the first time I ever laid eyes on him, I'm pretty sure the feeling was mutual. I'm glad our shine for each other has lasted over 25 years and I sure hope it lasts for over 25 more.
We met on a blind date, set up by one of my cousins and one of his Daddy's friends. The saying take a shine to always reminds me of one of the lines The Deer Hunter said to me on that first date. Smiling down at me with his blue green eyes twinkling he said "The sun must shine all the time where you're from." I think he was impressed with my summer time tan…a good thing he was because that was probably the last tan I ever had.
Sometimes it seems like it was only yesterday that we met. Other times it seems like I've never been without him, that somehow his presence wove itself around my childhood and growing up years even though he resided a whole 3 counties away and I didn't meet him until I was 20 years old.
We've never went in for special occasion presents, not that there is anything wrong with going all out for a special day like Valentines or an anniversary, it's just something neither of us ever thinks about.
There were a few years, when the girls were little, that neither of us even remembered our wedding anniversary. School used to start on August 27 and sometimes that would remind me or I'd be writing a check and as I wrote the date I'd think "Hey this is our anniversary!"
Since I've ended up taking this post down the sappy road I'll tell you about the 2 favorite gifts I ever received from The Deer Hunter.
I've always had a fondness for Angels. I used to collect them…until I ran out of room. When I was pregnant with the girls I was on complete bed rest. I was only supposed to get up to go to the bathroom and for my weekly doctor visit. The Deer Hunter was working way down in the lower part of the county on some hard horrid job. He went into a gas station to get a drink and a pack of crackers and while he was there he bought me a little Angel. It's playing a harp and is no bigger than 3 inches tall. Unthinking he left the price sticker on the bottom so I know it cost a whole $2.99. I just never got over the wonder of him being way down there working hard back breaking finger smashing manual labor and thinking about me.
It was one of our first Valentine's Day as a wedded couple, actually it was probably our very first one. We lived with Pap and Granny while we were building our house. On Valentine's Day I came out to go to work and found a heart cut out of lined notebook paper with the words I Love You sticking under my windshield wiper. I've still got that heart. At the time I couldn't believe Mr. Tough Guy found the paper and scissors and made me the heart without anyone in the house noticing what he was up to. All these years later his impromptu Valentine still makes me smile.
Tipper