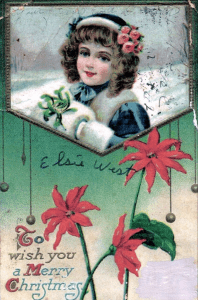 I was lucky enough to inherit The Deer Hunter's Great Grandmother's photo and postcard collection (Dollie). She kept all her Christmas cards too!
I can recognize a few of the people in the old photos and the names on the cards. Miss Cindy can help me out on others that she remembers, but there are more than a few that even Miss Cindy doesn't know.
Over the years I've used photocopies of the collection for crafting and many of the old photos I use here on the Blind Pig came from there too.
The postcard above is one of my favorites from the collection. It was sent to Dollie in December of 1911. The address is simply her name and the community Cruso, NC. Elsie West sent the card to Dollie. She wrote a Christmas greeting, but she wrote it in pencil and over the years its faded away till I can barely read it.
I doubt Elsie ever thought the card would still be bringing joy a 100 years after she sent it, but it is.
Tipper
Appalachia Through My Eyes – A series of photographs from my life in Southern Appalachia.