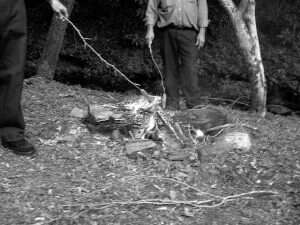 We don't have barbecues or cookouts-we have weenie roasts. It doesn't take much effort: make a bowl of slaw, a pot of chili, open a can of pork-n-beans (or get my sister-n-law to make her famous baked beans), grab a bag of chips, a few packs of hot dogs and buns, pickles, ketchup, mustard, and mayo, get one of the men's pocketknives to sharpen the sticks, and one of them to build a fire.
Growing up Granny would get so excited when we had a weenie roast-was it the good food? I don't think so. It was the family sitting around together talking that she liked.
These days we don't have weenie roasts often, but when one of us calls the other and says "You want to have a weenie roast?" I feel the same excitement Granny used too. I know there'll be laughter, joking, and talk ranging from Daffy Duck's use of the word acutrument to people's extravagant preparation for Armageddon.
Tipper
Appalachia Through My Eyes – A series of photographs from my life in Southern Appalachia.