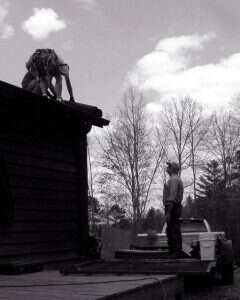 Over the weekend I cleaned out my office. I have a bad habit of sticking stuff here and there instead of taking time to put it where it actually goes. As I was sorting through the mess, I found an old video tape of Pap and Paul singing back in the day. Paul was still in college and Pap was still working-throwing whole sheets of plywood up to The Deer Hunter when they were roofing houses.
I watched the video with bittersweet eyes: remembering Paul as the first one of us to graduate from college, seeing Pap look so much younger, and thinking of the days when as The Deer Hunter put it "Your Daddy can work circles around me all day long." In the video I noticed Granny's old furniture that I grew up with. She made the curtains and the slip covers. I remember when we went and got the furniture from a man who looked like Orson Wells and was drinking wine-which as a 7 year old southern Baptist girl I found totally shocking.
Who knows how our minds connect things, but as I watched the old video and thought about how time has slipped away from us since those days my mind turned to the victims of the recent tornadoes and floods. We're not too far removed from the places in the south that were slammed by the killer tornadoes. Seems every day I hear someone telling a story of loss they heard from a cousin, a friend, or a family member who went to work in the area.
If my refrigerator quits tonight I'm going to miss it and I'm going to be aggravated that we'll have to buy a new one. But those things I see in the video-Granny's curtains-the old rocking chair-the music itself: how on Earth would I replace them if they were blown away- or washed away? Of course I wouldn't. I couldn't.
Of course most of all I mourn for the human lives lost in the storms, but I also mourn for the folks who lost their possessions-their Granny's curtains, the video of their Grandparent's 50th wedding anniversary, their children's baby pictures, the letters their husband sent back from Vietnam, and the list goes on and on.
One of the songs on the old video tape was Jesus Won't You Come By Here. It's an old spiritual full of lonesomeness and pleading for help.
I hope you enjoyed the old video.
Tipper