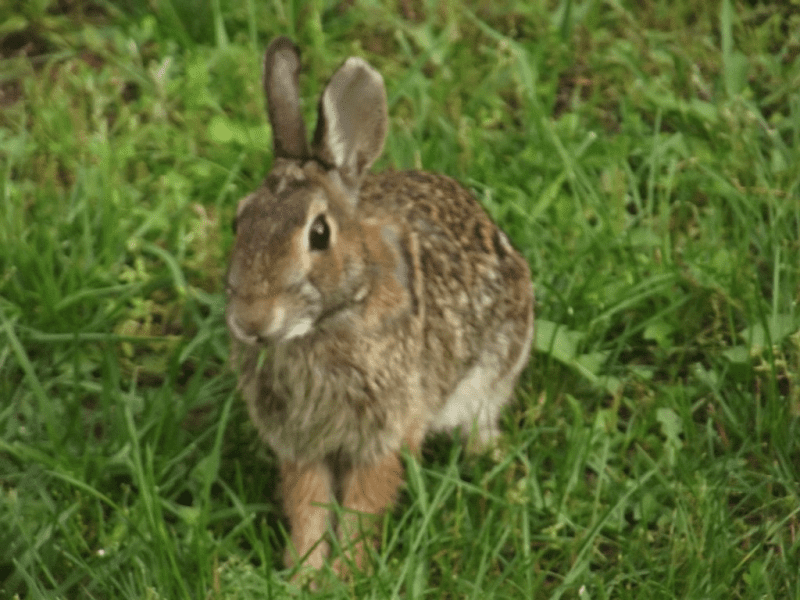 Chitter snapped this picture out her bedroom window. Mr. Cottontail stayed there for so long, prancing back and forth, that we decided he must have been posing for her.
I tried to remember all the rabbit folklore I knew to share with you, but only two things came to mind: the obvious lucky rabbit foot; and you shouldn't kill rabbits to eat until after the first few heavy frosts in fall to make sure any wolves (parasites) on the rabbit are gone.
I checked with Frank C. Brown to see if he had any good ones to add:
A rabbit cannot be trapped in a new box trap you must use old boards to make the box
If a rabbit being chased by dogs stops and licks his paws the dogs will never find him (I know a beagle down the hill who would disagree with this one)
Seeing a rabbit while fishing is bad luck
On the first day of the month say Rabbit Rabbit Rabbit and you'll get a present before you know it (I hope all of you will be saying Rabbit Rabbit Rabbit with me this the first of next month)
Last summer the rabbits ate my sugar snap peas before they could even get big enough to bloom. This year they've totally turned their noses up at them. I mean they haven't even nibbled on the peas-weird uh?
As more people are trying their hand at sustainable living, raising rabbits for meat is becoming popular. In fact the backyard rabbit is giving the backyard chicken a run for its money.
Tipper
Appalachia Through My Eyes – A series of photographs from my life in Southern Appalachia.