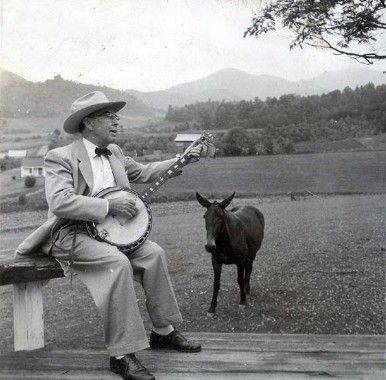 Bascom Lamar Lunsford – Photo from Library of Congress
Bio for Bascom Lamar Lunsford from the Blue Ridge Music Trails website:
"Musician, folklorist, and festival organizer Bascom Lamar Lunsford was born in Madison County. His father was a Confederate veteran from East Tennessee, and his mother came from a Unionist family from Buncombe and Madison Counties. His mother was a ballad singer, and her family included fiddlers and other musicians. When Bascom and his brother Blackwell were children, they learned to play the fiddle, and then as teenagers took up the banjo, which would become Lunsford's primary instrument.
As a grown man, Lunsford worked in many different professions over the years. He was a fruit tree and honey salesman, lawyer, publisher, teacher, and reading clerk in the North Carolina House of Representatives. It was in his work as a fruit tree salesman that Lunsford developed his vast repertoire of traditional songs and tunes. The job required him to travel throughout the mountains, staying with customers, and on his trips he would learn music from the people he met. The songs and tunes that he knew from memory numbered over 300, and the files that he kept included 3,000 pieces. He eventually recorded his memory collection for Columbia University and the Library of Congress.
In 1927 the Asheville Chamber of Commerce asked Lunsford to organize a festival. The Mountain Dance and Folk Festival has been in existence since, occurring every August in Asheville. He also organized festivals at the University of North Carolina, in Raleigh and Cherokee, and in Kentucky, Virginia, and South Carolina. He performed extensively as well, playing for the Roosevelts and the King and Queen of England at the White House in 1939, and composed songs, including the famous "Mountain Dew." Lunsford died in 1973 at the age of 91."
—-
Lunsford's influence in the southern mountains of Appalachia is still evident. I've heard folks reference him all my life. Here's a couple of neat old videos of him.
A few years back the girls and I were in a movie that was loosely based on Lunsford's life in western North Carolina. You can see if for free here: "If I Had Wings to Fly."
And all these years later (getting close to 100 years!) The Mountain Dance and Folk Festival that he started is still going strong. I've never been to the event, but I've always wanted to go.
The performance line-up for the festival is by invitation only.
The Pressley Girls are beyond honored to be on the roster for this year's Mountain Dance and Folk Festival.
You can jump over to The Mountain Dance and Folk Festival page for more details about the event.
Tipper
Subscribe for FREE and get a daily dose of Appalachia in your inbox