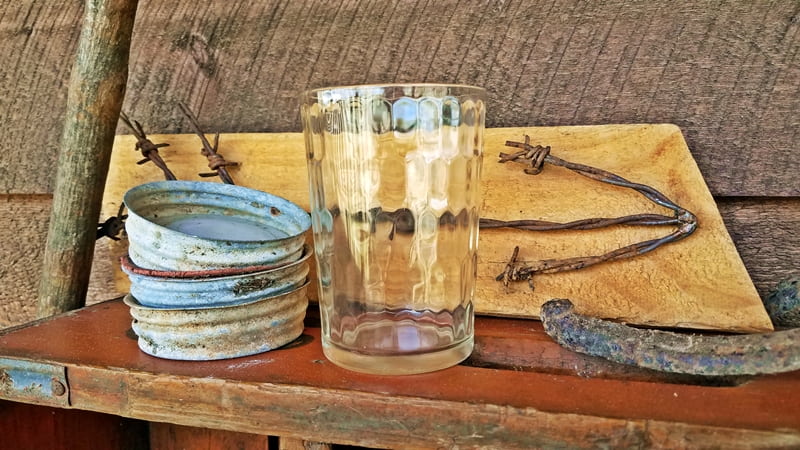 "Do you remember the days when snuff came in a glass container? Those snuff glasses were welcomed into every home as people found ways to put them to use. They made wonderful milk and tea glasses. The were not exactly what one would use to serve the king or queen, but who cared? People back in the mountains never had to worry about royalty anyway!
Some people used them for jelly glasses, because they were the perfect size for that.
My grandfather, George A. Parker, found the most unusual use of all for those glasses. He used them for a filing system. A few years ago, I was going through his old papers and I found a snuff glass (with the label on it). Pieces of folded paper filled the glass to capacity. When I began unfolding the small pieces of paper, I discovered that they were property tax receipts. There was one for every year, from the time he married and began paying taxes on his property, until he deeded his property (when he was an old man) to his two sons. I couldn't believe he had kept those for so many years. And such a place to file them!"
—Story from Estelle Parker Wall – "Reflections on Mountain Heritage"
"Snuff glasses became a common fixture in many households, even if the owner was not a user of the product they contained. Bruton, Buttercup, Tuberose, Dental Scotch were some of the many brand names. Snuff glasses were of clear glass, fluted on the inside for strength and appearance. The general dimensions were a two and three quarter inch diameter opening that tapered to a two and a quarter inch diameter base and having a height of four inches. A tin lid capped over the opening.
The snuff glass became a utilitarian drinking vessel and in many homes a standard item in a table setting. Snuff glasses could be found at spring sites and the glove box of automobiles.
They were put to secondary use before recycling became a buzzword. Jellies and jams were "put up" in snuff glasses. A layer of paraffin was poured on top of the contents before the original lid was put on."
—Earl Cagle – "Reflections on Mountain Heritage"
—-
My cabinets have quite a few snuff glasses in them. We love to use them for drinking glasses and they seem especially handy to use in the bathroom for brushing teeth and taking vitamins. My collection came from various places over the years. A few from Granny, a few from Miss Cindy, and a few from various thrift stores, yardsales, and dump sites.
There are six of the glasses that are very special to me.
The acreage surrounding our house contains quite a few old dumps from past generations of my family.
Several years ago, we were digging at one of the dumps from the time of my great grandmother Carrie who we called Big Grandma.
I found six snuff glasses sitting side by side under a pile of leaves and other debris. None were broken and each still had its metal lid attached. Someone set them down in a box or paper bag and over the years the container rotted away leaving the jars sitting neatly side by side under the leaves waiting for me to find them.
Tipper
Subscribe for FREE and get a daily dose of Appalachia in your inbox