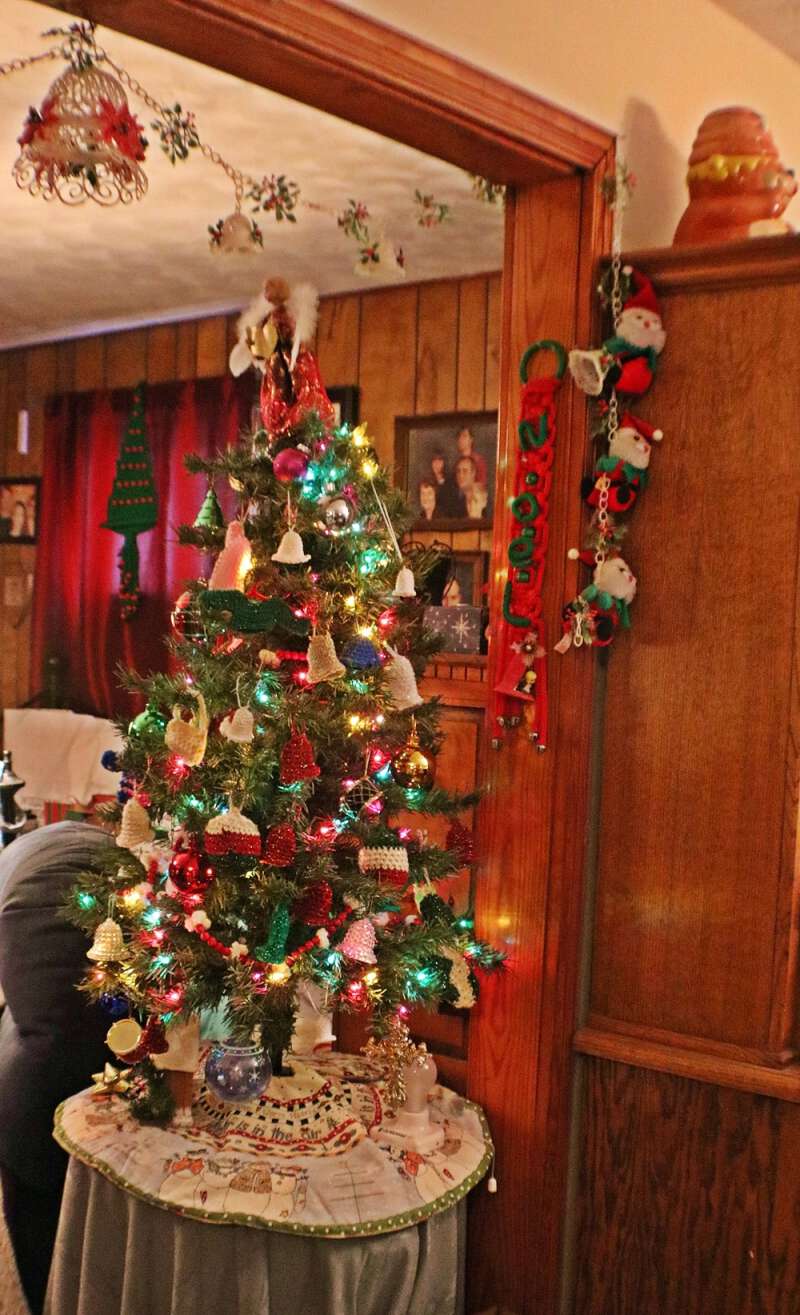 Granny's Christmas Tree
The girls made Paul videos of five songs he'd never heard them perform for Christmas. You may remember they always did that for Pap too. One of the songs they filmed was a fiddle tune they recently learned from Brasstown's own Dog Branch Cats Band called "The Red Haired Boy".
The tune is catchy and gets stuck in your head in a good way, but there's another reason I like it.
Granny's family of Jenkins was and is full of red heads. I can only remember Granny Gazzie having hair of snowy white, but they say her hair was a beautiful shade of red when she was young. Several of my cousins sport red hair themselves.
You've seen enough photos of Steve, Paul, and me to know none of us inherited red hair from our Granny Gazzie. The most I can claim is a red tint when the sun hits my hair and a sprinkling of freckles across my nose and cheeks. As a young girl those freckles drove me crazy. I thought they were ugly. One day Granny caught me moaning about them in the mirror and she told me they were Angel kisses. After that I didn't seem to mind the freckles as much.
When Steve and Kim's second son, Mark, came along we were surprised and pleased by his head of red hair. I think it especially pleased Granny. She didn't have any red haired kids of her own, but now she had a red headed grandson. I'm sure she thought of her family every time she looked at him in those days. In much the same way, every time I hear something about red heads or gingers I think of Mark.
In an earlier post I mentioned that neither Mark nor his brother Ben and his family would be here for Christmas and that we were all kinda sad about it. Especially the boys' mother Kim and Granny.
Well wouldn't you know it-Mark pulled a good one on us all. He showed up and surprised everyone! Kim said she got up early that morning and walked into the living room on her way to the kitchen and there he sat in a chair. She said she started crying and yelling for Steve to get up. In typical Mark fashion he said "Well if you're going to act like that I'll just leave." When she told that at Christmas we all got a good laugh! Before long they all tramped out to Granny's to surprise her. Steve and Kim tried to hide Mark behind them which is no easy feat since he's over 6 foot tall (he also got that from the Jenkins).
Granny was pleased as punch that Mark made it home for Christmas, actually we all were. And it seemed so appropriate that the girls learned and videoed "The Red Haired Boy" just in time for his arrival.
Hope you enjoyed the video and hearing about our Christmas surprise.
Tipper