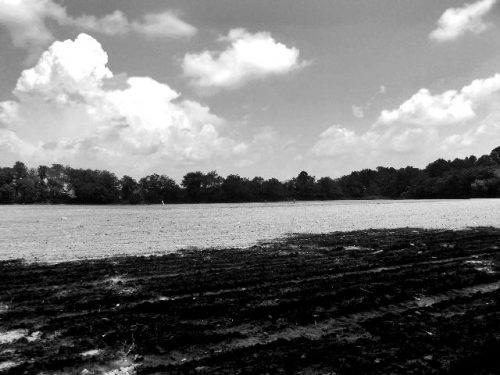 Today's guest post was written by Joe Mode.
Some Buchanan information
This letter was written by Alexander D. Buchanan and may have been written to his sister, Martha Ann Buchanan Houston, who resided in Tazewell, Claiborne County, Tennessee. The letter appears to be written after 1850, the number "4" does not look like the other "4" as in August 24th. If this is 1853, the "5" does not look like the "5" in "15 years." This may have been written as late as 1870 as the Susan Bowles/Boles mentioned here may have married Robert Daniels if Fayette County, Illinois on 31 August 1871. The letter had virtually no capitalization or punctuation, so I had to decipher this and add the same where I thought appropriate. I left the spelling as written for flavor. This letter was in the possession of the family of a direct Walker relative (Mary Etta "Molly" Walker Hill) and those Walkers being direct relatives of our Buchanan side. I made color scans of the original letter. Nancy Houston, sister to James R. Houston, appears to have married a James Buchanan. He may be a brother or relative of Alexander and Martha (Joe Mode-Knoxville, Tennessee)
Fayette County, Ill Sept 9th 43? (1813-1843?)
Dear sister,
I recd (received) yours (letter) of Aug 24th yesterday. I rote you afew days ago. I have forgot how long, perhaps not long anugh (enough) for you to git my letter, but believing a few lines will always be gladly received. I send you a few lines, againe (again) you may not git all my letters for thear is grate cearlessnes (carelessness) going on among the post masters. My wife died of conjestion of the stumac and bowels 29th of July after 3 days illness. She had not seen awell day for 15 years and yet got more fleshy all the time. I am making my home with Wash (?) and mag (Margaret?) Jo lives with his unkle Jas Brown 12 miles N (north) of hear. I work when ifeel like it and no more. All goes right with wash (Washington?) We have fine crops, all but oats though. There is a grate deal of late corn on the prararies that will be very lite. The fruit crop has almost failed. I have lost at least $5.00 worth of apletrees (apple trees) by the hard winter. The helth (health of the area) is pretty good now, tho every body complains of wekeness (weakness) After working thrue the long hot summers we are almost wore out. Agrate (A great) deal of work has to be dun hear in hot weather or not atall (at all) It seames strange to hear of so much sickness in the mountains. Theare (there) is no cholery (cholera) within 30 miles of hear that I know of. I have bin fixing to go to VA (Virginia) Old Billy said it will never do for us to go while the cholery is so bad. Sometimes I think of going to the Crab Orchard, then by stage thrue Cumberland Gap to Tazewell, then I could find out whare you live. Rite (write) forthwith & direct me the way and how fare (far) from theare to Abingdon & what station I will stop at on the RR (railroad) to come to Tazewell. I think at Bullsgap or Strawberry Plains, tho I may be mistaken.
Lain Carson is still at his old home. Susan Bowles is over the river at John Carsons colering (coloring) yarn for winter clths (clothes) She must keep up her old trade, her boys begs her to quit working so hard but all in vain. Hundreds of men in this county work like chucky Jim Cole. Nearly all buy thear clothing in the stores & sell thear wool. This together with the fool fashions keeps most of farmers diging (digging) aspsely (especially) when they have a parsel (parcel or many) girls to dress and most of them seam to think of little els (else) then dressing and runing (running) to Balls. I don't know who will do the work after awhile.
I long to be up in the mountains. I can go and stay as long as the people will let me. Rite (write) quick, tell me which way you live from Tazewell & how fare (far)
Farewell for thypes (?)
Yours as ever
Alx D. Buchanan
(Alexander D. Buchanan)
NOTE: I show a marriage between Alexander Buchanan and Eunice Carson in Fayette, Illinois on 28 September 1840. Findagrave.com lists an Alexander D. "Aleck" Buchanan who was born on 8 March 1812 in Virginia and died on 1 August 1881 in Hagarstown, Fayette County Illinois. The site states Alexander D. "Aleck" Buchanan married twice, first to Eunice and then to Elisabeth S. Stephenson on 20 February 1853. Eunice was born 8 August 1821 in Virginia and died at the age of 32 years, 7 months and 29 days on 8 March 1853 in Fayette, Illinois. She died on Alexander's birthday. Both of them are buried in McInturff Cemetery in Fayette County. I am not certain this is the Alexander represented here. The Alexander Buchanan in the letter is most likely a brother of Martha Ann Buchanan who married James R. Houston. James R. Houston was born 15 February 1811. Martha Ann Buchanan was born 1 January 1814 (From Houston Family Bible) `They were married on 18 October 1832 in Washington County, Virginia and later moved to Tazewell, Claiborne County Tennessee.
CARSON, William Lane, for more than four score years a resident of what is now Carson Township, Fayette County, Ill., which was named in his honor, and during all his mature life identified with the best agricultural interests of the county, is now passing the waning period of life in the midst of every material comfort that wealth can afford, conscious of the deep respect and cordial regard of a host of friends. Mr. Carson was born in New Abingdon, Washington County, Virginia September 15, 1828. His parents were David and Mary Debusk Carson, natives of that State, and the birthplace of his paternal grandfather, Samuel Carson, was in County Downs, Ireland. He came to America at the age of sixteen years, on board of a British Man-of-War, which met a French Battleship in mid-ocean and in the engagement which ensued, he suffered a broken shoulder. Samuel Carson settled in Berkeley County, Va. now W. Va., and during the Revolutionary War, although a man of delicate health, rendered official service in the Colonial Army.
Susan (Carson) Bowles, wife of John Martin Bowles, was born to Samuel and Margaret (DeBusk) Bowles circa 1815-1820. The DEBUSK family was definitely from Washington County, Virginia, AS WERE THE BOWLES. Margaret was born in 1788-no other info known to me. Susan CARSON Bowles' siblings were JAMES b. 1813, JOHN b. 1818, AND CAMPBELL CARSON, b.1826 and maybe others. Susan and John Martin Bowles married in 1838 at FAYETTE County, Illinois, which leads me to believe that her family might have migrated there as well (from Ancestry.com board)
Susan Bowles/Boles married Robert Daniels on 31 August 1871 in Fayette County, Illinois (page 128)
Susan(Carson) Bowles, wife of John Martin Bowles, was born to Samuel and Margaret (DeBusk) Bowles circa 1815-1820.  Susan and John Martin Bowles married in 1838 at Fayette County, Illinois.
The 1850 Fayette County, Illinois census, page 343, household #96 lists Alexander 38 VA, Eunice 30 VA, Catherine 8 ILL, Margaret 7, Andrew (Jackson) 5, Camel/Caniel 2, and Abram W. 1 (Andrew Jackson Buchanan was born 6 January 1846 and died in Seminary, Fayette County Illinois on 9 November 1931. His wife's name was Clara and his parents were listed as Alexander Buchanan and Eunice Carson)
The 1860 Lenny Township, Fayette County Illinois census, page 244, household #16 lists Alex Buchannan 48 VA, Casanda 46 TN, Geo. W. Boulingh 18, Isaih ""16, Geo "" 12, illegible Boulingh 11, John C. "" 6, and illegible Smith 34 (I don't know if there has been a mistake by those interpreting the last names, or if the others are Buchanan. The children don't look familiar as compared to the Alexander Buchanan family of 1850)
The 1865 Manufacturing and Agriculture census of Seminary, Fayette County Illinois, page 6 list Alexander Buchanan as having 2 males between 10-20 years old, 2 males between 20-30 years old, and one male between 40-50 years old. There is also 2 females between 20-30 years old and one female between 30-40 years old. His livestock is worth $300, he has 30 lbs of wool and two of his children are in school.
The 1870 Seminary, Fayette County Illinois census, page 747-67, household #153 lists Alex Buchanan 58 VA (Estate value of $6000/$1000) Lucinda 46 TN, Joseph 14 ILL, Sarah Morgan 49 ILL, and Wm. Morgan 4.
The 1880 Seminary, Fayette County Illinois census, page 201B lists Andrew Buchanan 34, Clarinda 23, Rhoda 1, Samuel Betterton 18, Mollie Inman 19, and Alex Buchanan (Father-67 years old, born in Virginia. He is not with Andrew and Clarinda in 1900)
Mr. Mode,
Last night I did a quick search of my great-great grandfather Alexander Buchanan and found your post on the GenForum. You were looking at the Carson families. Andrew Jackson Buchanan is my great grandfather, his daughter, Julia Buchanan, my grandmother thus my father James Buchanan Nesbit. I grew up only a couple miles from the cemetery where they are buried. After reading your post I just wanted to email you. I am searching the background of Alexander Buchanan's parents to determine where the family originated. I haven't had time to really continue this search but hope to continue this winter. If you have any further information, please email me. My dad just said the family came from KY and TN.  I never knew until last night and today, all the Buchanans buried at McInturff Cemetery. I know where Andrew Jackson Buchanan is buried as it's close to my parents. I do not know where any of the other Buchanans are buried. My husband and I will be making the hour plus drive there soon to look for the others.
This search started a few years ago as we went to Ireland and then another time to Scotland. Needless to say, I was pleasingly shocked last night finding your 2014 post online. Thank you for your time and assistance! (Julie Sterling- 24 August 2014-[email protected])
Joe,
Thank you for writing! Unfortunately, I have no other information. My dad always told stories about Andrew Jackson Buchanan's (his grandfather) Civil War events. As many folks, we never wrote them down. My husband, retired Eastern IL University Civil War History Prof, and I researched his CW cavalry regiment. Per my dad's stories and the research, AJ Buchanan was lucky to not get captured and sent to Andersonville, as so many of his fellow soldiers were. Before final enlistment, he ran away from home a few times as the story goes, to join the Union ranks but was sent back as he was too young to join. He would get to St. Louis for a boat going down the Mississippi River but was sent home. I was named after his daughter, Julia, my grandmother, who unfortunately,  I never knew as she died long before I was born. I just can't believe I found your posting as I didn't know the site you had posted. I hadn't looked for Alexander in a year or so as our lives have been very busy helping other family.
Maybe someday we can get to VA to check out those records. My dad always said we were the poor Scots-Irish. When in Belfast a couple years ago, I saw a huge billboard with the name Nesbitt on it, which was my dad's & my name (Nesbit—only one t) as Julia married Harry Nesbit (Julie Sterling- 28 August 2014-[email protected])
—-
Fascinating! I especially enjoyed the letter. What a peek into the life of Mr. Buchanan. I can totally understand his longing to be up in the mountains.
One of my closest friends is a Buchanan from Robbinsville NC. I can't wait for her to see this post 🙂
Tipper
Subscribe for FREE and get a daily dose of Appalachia in your inbox