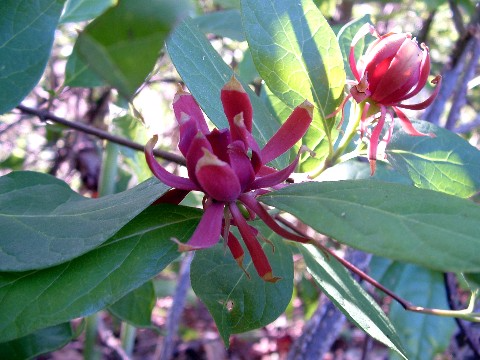 The air around my house is fragrant with the sweet smell of Carolina Spice Bushes. The shrubby bushes are called by a variety of names including but not limited too: Sweet Shrub, Carolina Allspice, Sweet Bubby Bush, Applesauce Bush, Strawberry Bush, Sweet Betsy, Bubbies, and Florida Spice Bush. As you can see, each common name given to the plant is indicative of the sweet spicy aroma the blooms give off each spring. In my neck of the woods, I've heard it called Carolina Spice Bush and Sweet Shrub most often.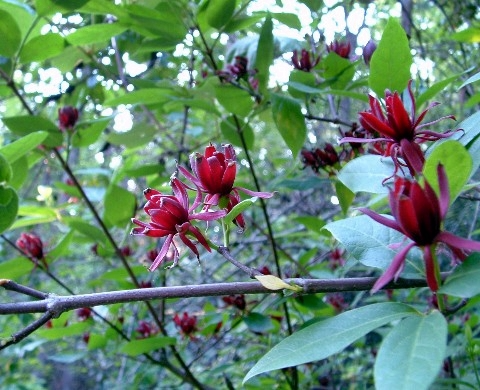 The blooms are a deep brownish maroon. They start out fairly tight and uniform and then as the days pass they flop open to revel the inner portion. I've read, Carolina Spice Bushes grow near creek banks or where they can receive sufficient moisture, but around my house they grow wild everywhere not seeming to mind if they're close to water or not. They commonly grow throughout the southeast portion of the US.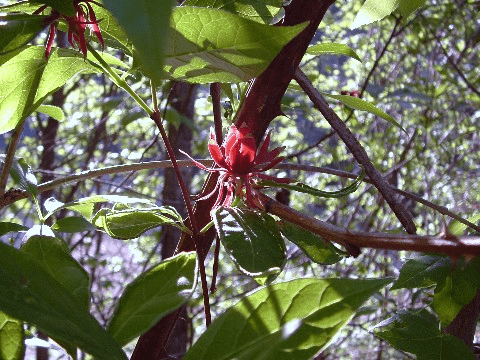 The sweet smelling bush is often thought of as old fashioned, reminding folks of their childhood or their grandparents house. In the 20s, 30s, and 40s it was common for women to make sachets of the blooms to store in their drawers or closets.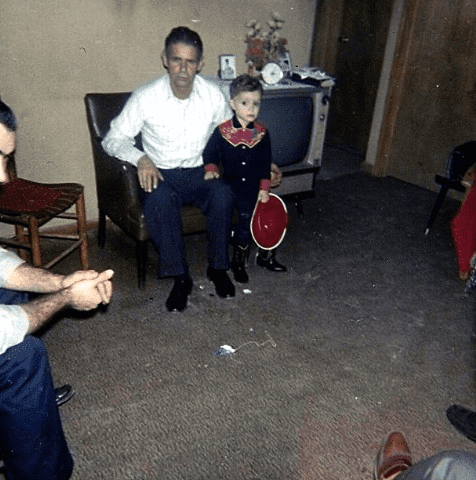 Papaw Wade and Steve
The Carolina Spice Bush will forever remind me of Papaw.
Papaw Wade might have been small in stature, but he was larger than life in every other way. One of his legs was shorter than the other from falling off a log cabin when he was a boy.
He was truly the hardest working man I ever saw. I dare say he worked harder than Pap and that's really saying something. With eyes of dancing fire and a heart of pure love his favorite flower was the Carolina Spice Bush.
Tipper
This post was originally published here on the Blind Pig in May of 2010.