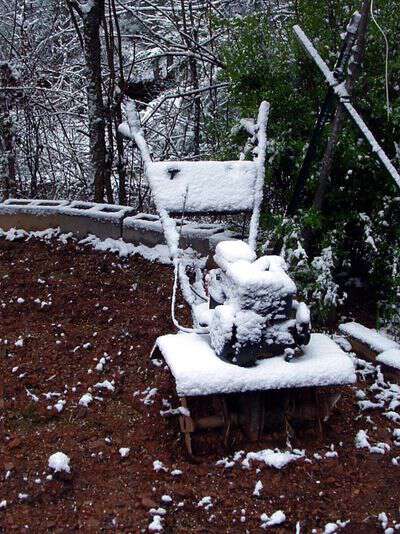 Only a week ago, it seemed spring had indeed sprung-now not so much. Although the calendar tells me Spring has arrived-my cold feet and hands don't believe it. We've had below freezing temps along with snow flurries here in southern Appalachia for the past two days.
Excerpt from Dictionary of Smoky Mountain English:
A verb variant past-tense form of sprung.
1913 Kephart Our Sthn High 283-84 In mountain vernacular the Old English strong past tense still lives in begun, drunk, holped, rung, shrunk, sprung, stunk, sung, sunk, swum. 1939 Hall Coll. Hartford TN When I started my horse, it sprung right up, and I heared it hit the ground two or three times, and it run out of hearing, and if it wasn't one of them [panthers], I don't know what it could have been. (Bill Barnes)

To sprain.
2000 Lowry Folk Medicine Terms I sprung my ankle.
It's still common to hear folks in this area use sprung in the same manner as from the Dictionary of Smoky Mountain English. For example I would say:
I was pushing it down in the box so I could fasten it when it sprung back up and hit me in the face.
I was running around the side of the house when I turned my foot over and sprung my ankle.
I'd love to know if you're familiar with the usage of the word sprung-so leave a comment and let me know!
Tipper
*Source Dictionary of Smoky Mountain English.