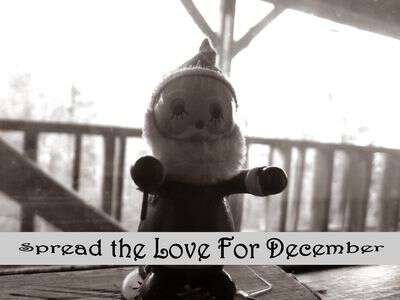 Time to Spread the Love for the month of December.
I had a wonderful December that was full of Christmas, Music, Good Food, Love, Joy-and it was made even better by each of you who took the time to comment-and I thank each of you:
Sandy Carlson, Janet, Mary's Writing Nook, Paula, Kathleen, Carolyn A., Just Jackie, The Texican, Julie at Elisharose, Miss Cindy, Brenda Kay Ledford, Sheila B., Osagebluff Quilter, Terry, Matthew Burns, GrannyPam, Warren, Threecollie, Lanny, The Fishing Guy, Mary Traveling Hammer, Petra Michelle, SolsticeDreamer, David Templeton, Jennifer in OR, Teresa Atkinson, Jenny-Jenny, Greta Koehl, Farmchick Paula, Nancy M., Glenda, Nancy Simpson, Fencepost, Rick's Whitetail Woods, Martina, Trisha Too, Mary Life In A Cordwood Cabin, My Carolina Kitchen, Kelli, Farmchick, Emily Cole, Marie, Mike Mclain, Kat, Peggy P, Granny Sue, Paul Saltcreek, GaFarmWoman , Patty Hall, JoLyn, Olecrowsnest, The Welldigger, Rachel, Marilyn, Stacey, Calann, B. Ruth, CheE, Dean, Debbie, Sallie Covolo, Annie, Shane Moad, Cathy, Judi, Barbara Gantt, Mary-Annies Goat Hill, John Dilbeck, Vicki Lane, Mary Libby, Frances, Jay Henderson, wkf, < a href="http://stitchinbythelake.blogspot.com/" target="_blank">Marlene, Tazebell, Randy, Michelle, Susie, Ethel, Connie, Julie Curtis, Kathleen, Laura, Yolanda, Far Side Of Fifty, Janet Pressley, Mark S., Michael Golch, Tish, Eva Nell Mull Wike, Ph.D., Sarah, Wanda, Monica Gatti, Christina-The Joy Of, Benny Watt Terry, David Haynes, Judith Richards Shubert, Thea, Two Square Meals, Trainwreck, Dana, Catherine Seiberling Pond, Lonnie L. Dockery, Rooney Floyd, Theresa, Jan, Apple, Christina Bumblee Bee Bags, Marydon Ford, Betty Patton, Annie, Shawn, Miss FiFi, Lisa Louise Cook, Carole Corlew, Steve In Florence KY, Chris, and N.S. Rights.
The winner for December is…
Catherine Seiberling Pond! What does she win? One of my Altered Digital Photos-the 5X7 photo above is matted and ready for framing-all Catherine will need is an 8X10 frame to put it in. I hope she likes it.
I took the photo while riding a ferry down Fontana Lake. We were headed to Hazel Creek for an amazing day full of hiking through history. We went to see the town of Proctor-or I should say what remains of the town. When the TVA built Fontana Dam-it effected quite a few small towns. Most of them were flooded and covered by the lake created when the dam was built. Proctor was effected too-but not by being covered-it was isolated. After the dam was built and the lake filled too capacity-Proctor was only accessible by boat. A post about Proctor is coming up soon-so if you're interested be on the look out for it.
Don't forget-all those names up there in orange-they each have a wonderful website-click on one and go for a visit and I know you'll be glad you did.
Tipper