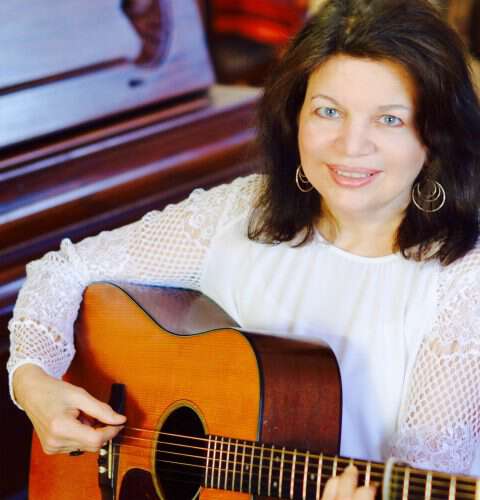 Paul first introduced me to the music of Kathy Chiavola about 7 or 8 years ago. From the beginning I loved her voice-loved her music. But once I heard her sing The Harvest-which immediately become one of my all time favorite songs-I became smitten with her for life.
After I successfully nabbed an interview with David Grier-I thought what the heck I'll ask her for an interview-and guess what she said yes too.
———————————
Where did you grow up?
I was born in Chicago and raised in Kansas City.
Did you grow up in a musical family?
Yes, Mom played piano and violin and viola and Dad still sings very well. My three sisters play various instruments and sing.
How long have you been making music for a living?
Since I was 15.
How young were you when you started singing/playing/?
I began piano lessons at age 7 or 8, and began teaching myself guitar at age 12. I've always sung.
What was the first song you learned to play?
Probably Twinkle Twinkle Little Star.
Over the years, have you seen a decline in the popularity of old time, traditional, or bluegrass music?
No. Quite the contrary. The availability of the music via movies and the internet has popularized the music.
It seems folks who enjoy traditional, old time, bluegrass music are die hard fans-do you think the music speaks to them in a way other genres don't?
Yes, it's real music for real people.
Where can folks find your music?
www.kathychiavola.com, cdbaby.com, www.myspace.com/kathychiavola, itunes, rhapsody, www.youtube.com
Is there anything you'd like to let your fans know about?
I was awarded the prestigious Ragusani nel Mondo Prize in Ragusa, Sicily last September 4 in recognition of my musical career. You can see it on youtube.
What is the funniest thing that ever happened at one of your performances?
Can't tell it!
When you think of music in relation to Appalachia what comes to mind?
Dance tunes, ballads, fiddle tunes, the melding of Celtic/English traditions with African music…The music tells a story, oral history, makes us dance, play and sing; the music expresses all emotion; and is the soundtrack to life; there is a timeless appeal of traditional music stemming from the heart and soul.
——————————-
Hope you enjoyed the interview. Kathy generously donated 2 cds for a giveaway. Leave a comment and you'll get a chance to win some of her fantastic music for yourself. Giveaway ends on Saturday August 14, 2010.
Tipper