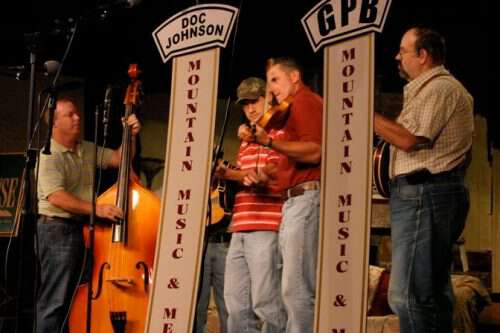 One of the things I wanted to accomplish during the Spotlight on Music, was to highlight communities spread through out the Appalachian Mountains and beyond, where traditional music is alive and well. On almost every weekend you can find local musicians putting on shows that rival Nashville or Hollywood productions.
Over the weekend, me and Pap traveled to Dahlonega, GA to one of those venues.
The Mountain Music & Medicine Show is a live radio show-where you can be part of the audience and watch what thousands of folks are hearing over the airwaves.
Here's a great description from their website:
"The setting is Dahlonega from Gold Rush days of the early 1800s to modern times of the early 1950s—? Doc  Johnson's traveling Miracle Medicine Show has come to town and set up on the Square in front of Nix's Store, the hub of local commerce and social center of the area. Doc brings musical acts of the time with him as well as his own brand of humor while he exhorts folks to buy his "Wizard Water" elixir for improving their lives. He also showcases local talent on his show. Folks come from all around to hear the music & Doc. His fast-paced style and rapport with the crowd keeps toes a-tapping and things moving briskly along. The scene occasionally shifts to "street scene" short skits where local people comment on the goings on of the day, mixing local history, culture and humor in the unique Southern Appalachian style of the time period. This is all presented in a live old-time Radio broadcast; sort of like going back in time without leaving your living room!"
Once we arrived I was tickled pink to see the pre-show entertainment was provided by children from the Georgia Pick and Bow Traditional Music School. I first learned about the Pick and Bow program earlier this summer when I was contacted by Alice Sampson, Ph.D., who is Director of Georgia Appalachian Studies Center. The goal of the school is too offer affordable lessons to kids in an effort to foster and encourage the traditional music of Appalachia. The kids we saw on Saturday night did a great job-both their playing and singing were impressive. You can see a few of the same kids performing for their Fall Recital on youtube by clicking here. Most of all it was encouraging to see another program, like Junior Appalachian Musicians, making sure the coming generations know about Appalachia's rich musical heritage.
The Mountain Music & Medicine Show has received 3 GABBY awards from the Georgia Association of Broadcasters for best locally produced radio program in the entire state. After seeing the show I can clearly see why-but what makes the awards even more remarkable is knowing the radio show is put on by a volunteer effort.
From the radio announcer, J. Melvin Hawkins, to the Doc, Henry Johnson, the actors all did a great job-both realistic and humorous. The show was fast paced and very entertaining-in addition to the humor and music there was even some clogging thrown in. It was the 2nd time we'd seen the Buzzard Mountain Boys-and they were as good as the first time we saw them here in Brasstown.
While I enjoyed it all-my favorite aspect of the show was 'discovering' 2 bands I had never heard of but will be adding to my ever growing list of favorites. The music of Yahoola and Little Country Giants will be running around in my head for days to come. Neat to think they've been performing an hour and half away for a good while-and until last night I had never heard of them. See what I mean about great musicians being around every corner-all we have to do is take the time to look for them.
You can keep track of the Mountain Music & Medicine Show by listening in to GPB Radio (WNGU 89.5fm and WPPR 88.3fm local to north GA) and by checking out their past shows on Itunes (which are FREE to download). If you ever get the chance-I highly recommend seeing the Mountain Music & Medicine Show-I know you'll be glad you did.
Tipper