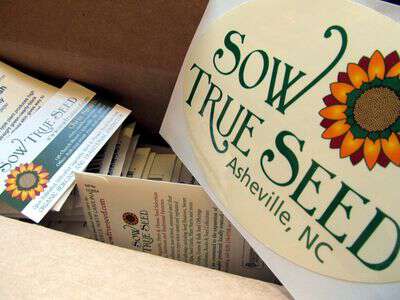 Sow True Seed has once again signed on to sponsor the Blind Pig and The Acorn garden as well as the Blind Pig & The Acorn Reporters @ Large planting project.
Sow True Seed is located in Asheville NC, they have a great website for those of you who live to far away to visit, and their seeds can also be found in racks all over the place. (go to this page to see the rack locations)
The company has a large selection of heirloom seeds and they strive to find varieties that do well in the Southern Appalachian Mountains.
With an eye on the future, Sow True Seed has taken a stand to help ensure the purity of open-pollinated and heirloom seeds so future generations can continue to grow their favorite veggies, save their seed from year to year, and continue the circle of growing that our ancestors handed down to us.
Sow True Seed has an impressive selection of vegetable, flower, herb, and cover crop seeds.
They offer open-pollinated, non hybrid, and untreated seed-meaning you can save your seed from year to year with each new plant's yield staying true to the original yield.
Much of their seed production is USDA Certified Organic-and they're striving to increase their organic varieties each year.
Heirloom seeds-which are always open pollinated-make up most of Sow True Seed's inventory.
Sow True Seed also offers programs such as:
Customized Seed Packets – think weddings, birthdays, anniversaries
A Donation Program – Sow True Seed donates un-used seed to qualifying organizations and groups
A Fund Raising Program for schools and other organizations
Garlic Fest – where you can learn all you need to know about planting, caring, harvesting, and storing your garlic
In addition you can get seed garlic, sweet potato slips, seed potatoes, garden collections, hand tools, tee shirts, gift certificates, and a variety of how to/gardening books from Sow True Seed.
Jump over to their website and while you're there sign up for Sow True Seed's great newsletter which is always a pleasure to read with helpful tips and gardening info. The newsletter is FREE. Be sure to check out the Sow True Seed Blog too!
Be on the look out for more information about the Blind Pig & the Acorn Reporters @ Large Planting Project in the coming days-this year's trial vegetable is cucumbers.
Tipper