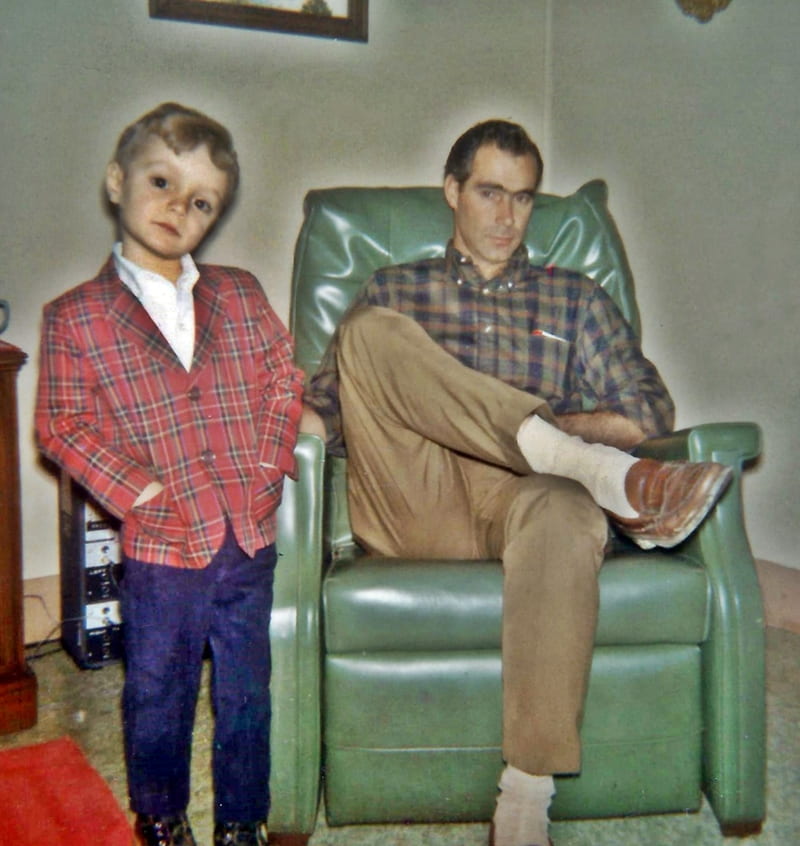 Steve and Pap
How I love the old songs that they are singing How they make my old heart beat with joy They're a light in an ocean of darkness That surrounds all my years as a boy
—Just a Touch of the Past
There are so many old songs that make my heart beat with joy and bring a brightness to my day that I could never name them all.
If I close my eyes and listen to a Louvin Brothers gospel song I'm instantly a skinny freckled face backward girl sitting by Granny on a church bench or standing behind Pap's legs while he talks to a bunch of men.
"I Love God's Way of Living" reminds me of trying to ride on Pap's guitar case like it was a horse and play with the buckles.
He had an old capo, maybe Paul still has it. The clamp had a piece that swung back and forth that fastened onto the neck. It had a white band around it to protect the wood on the backside of the guitar. I loved pretending it was a horse too.
Granny said one song that took her back to being a child was "Goodnight Irene." I laughingly said "Really?" She said it was the first song she heard on the first radio her family had when she was a girl and hearing it always took her back to that time of wonder.
Granny's mother Gazzie's favorite song was "Give Me the Roses While I Live." Maybe it took her back to childhood.
Paul heard Granny and me talking about old songs and he said let me tell you a story Pap told me.
One time Pap and his Daddy were out with one of Pap's uncle. Their car stalled on the train track with a train coming. Papaw Wade jumped out and pushed the car off the track. Pap said Roy Acuff was on the radio singing "Branded Where Ever I Go." Needless to say that song stuck with Pap for the rest of his life. (You can go here to hear Paul and Pap's version of the song)
Paul said four or five years before Pap died he came home from church one day and said he'd thought of an old song he liked when he was a boy. He sung a line or two of it and said that's all he could remember.
A quick google later and Paul found a video of the song "Pay Me No Mind."
When the song was about a third of the way through Paul looked over at Pap and saw his eyes were filled with tears. Paul said "Does it make you sad?" Pap replied "No it takes me back."
Tipper
Subscribe for FREE and get a daily dose of Appalachia in your inbox