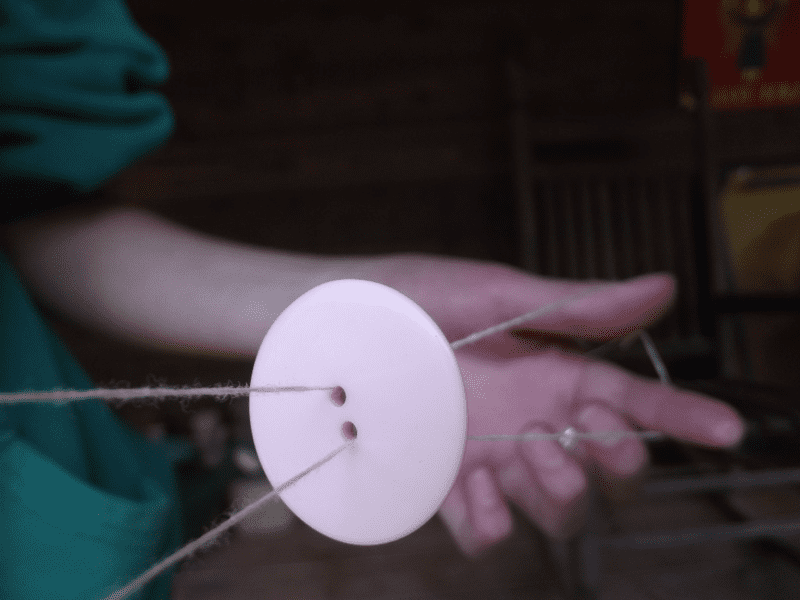 "Mom made lots of toys with strings. The button and string provided many hours of entertainment for children who didn't have store bought toys. Mom also made a dancing doll out of cardboard with strings attached to the hands and feet. When the doll was hung on a flat surface and the dangling thread was pulled, it would dance up a storm. The thread spool was used for many different toys as well. My favorite was when Mom would make up some soapy water and we used the spool for blowing bubbles. If we could save enough spools to make four wheels, we built the fanciest car around."
—Shirl 2017
---
I remember my Mamaw Marie making me a zizzer button to play with. It provided hours of fun, the only downside being if it got close to someone's hair it immediately became so tangled you could barley get it out.
The imagination of a child is wonderful and if allowed to meander along simple toys are more than enough.
Paul and I loved to make roads out of books and blankets for his little cars to drive along. I remember being very little and realizing Mamaw Marie's shoes made the perfect cars for my barbie dolls. Making mud pies and other pretend foods from items I found in my backyard entertained me for hours. Chatter and Chitter enjoyed the same activity. They'd serve their daddy and me full meals at their mud splattered pink plastic table in the backyard and stand by like chefs on a cooking contest show anxiously awaiting our verdict while we pretended to eat and enjoy them 🙂
Las night's video: Treasures & Stories from the China Cabinet – in Appalachia.
Tipper
Subscribe for FREE and get a daily dose of Appalachia in your inbox