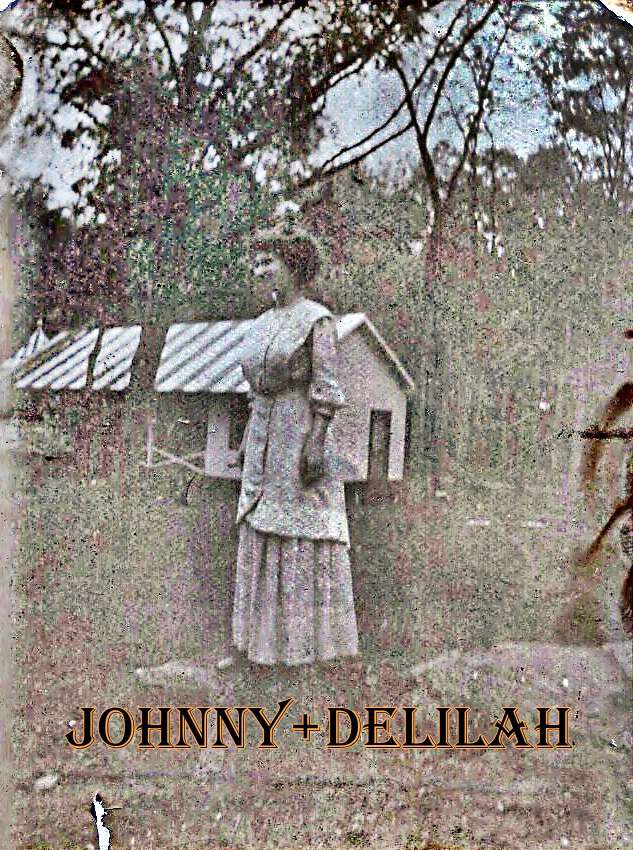 With Valentines floating around I was reminded of the craziest love story I ever heard.
I stumbled on it in a John Parris book, "My Mountains My People."
Parris tells of a man named Johnny Holsclaw, who happened to be a real charmer when it came to women. Parris compares him to Black Jack David—if you haven't a clue who Black Jack David is go listen to this and then come back.
Seems Holsclaw was a loner when he wasn't wooing the mountain belles, but there came a time when he decided he needed someone to settle down with, so he started visiting the families that were spread throughout the settlement.
Once Holsclaw stopped by the Baird home and laid eyes on their daughter Delilah he knew he'd found the girl for him. He captured Delilah and her families attention as he told them tales about Kentucky and all its splendor.
He stayed with the Bairds a couple more days and all the while he told them wondrous stories of the land called Kentucky and of his longing to return.
Once Holsclaw and Delilah were alone he convinced her to run off with him. He promised to take her to Kentucky and give her a good life that couldn't be found no where else. I'll let Parris finish the story for you.
Johnny Holsclaw liked to have walked Delilah to death. he took her up one mountain and down another, across streams and through rocky ravines. Delilah kept asking when they would get to Kentucky and Johnny kept saying it wouldn't be too Long.

Maybe it was a week, maybe it was longer. Nobody knows and Delilah never did say. But eventually Johnny brought her to his bark shanty on the waters of the Elk.

"This is Kentucky," he said.

Delilah kissed him and hugged him and said she reckoned she never would go back to North Carolina and the Valley of the Cross, for this sure was a beautiful place. Not for one minute did she dream that the home she left was only eight miles away as the crow flew.

She was to be kept in ignorance of this startling fact for many years. Meanwhile, she set out to make Johnny Holsclaw never regret bringing her to this far-off wonderful place. And Johnny took his ax and built them a cabin and made her chairs and tables and a bed.

She gave him children and cooked for him and told him of her love for him. Johnny would smile and then take off on a bear or deer hunt and be gone for days. But Delilah didn't seem to mind. She watched over her brood and nursed her happiness.

Sometimes, when there were just she and the children sitting around the fire at night all alone, she would sing some of the old tunes and old ballads.

There was one in particular. The one called Black Jack David,. Perhaps it was because it reminded her in a way of Johnny and her. Folks in the mountains had been singing it for a long time. It had been fetched over from the old country and changed to fit the times.

The years passed, and then one day Delilah was out with her children in the woods. They had strayed far from home when she suddenly stopped and listened. She shushed the children and bent her ear toward a far-off hill. "Why, it's a cow-bell," she said. She listened some more and said it sounded just like a cow-bell her father used to have.

Curious she and the children searched out the cow. She went up to the cow and looked at the bell. "Why, it can't be," she said. But it was. It was her father's cow-bell.

And then the cow turned and started off across the hill. Delilah followed along and came to the top where she could look down into the valley. And there she saw her old home. "Well, of all things. How could that be?" So she went on and came to her father's house.

Everybody was glad to see her. Said they didn't know what had happened to her where she had gone, except they'd figured she had run away with Johnny Holsclaw. Delilah stayed only a little while but promised to come back for a visit. When she got home, Johnny was there.

She didn't fuss with him. She just hauled off and told him she had been home. Just across the mountain, there, she said.

Johnny sort of grinned.

Delilah smiled. "I want to thank you," she said, "for taking me off and making me think I was in Kentucky. It don't matter that this ain't Kentucky. I couldn't have been no happier." And then she reached up and put her arms about his neck and kissed him. And they lived happily ever after.

Somehow, it seems a shame nobody has ever written a ballad about Johnny and Delilah. But even if Johnny didn't get a ballad like Black Jack David he got a line of elegy from Delilah.

She thanked him for deceiving her.
Now ain't that the craziest love story you've ever heard. Thanking Johnny for deceiving me would have been the last thing I wanted to do 🙂
Last night's video: Loving Lemon Bread (Cake) in Appalachia.
Tipper
*Source: My Mountains My People – A Frontier Gypsy written by John Parris