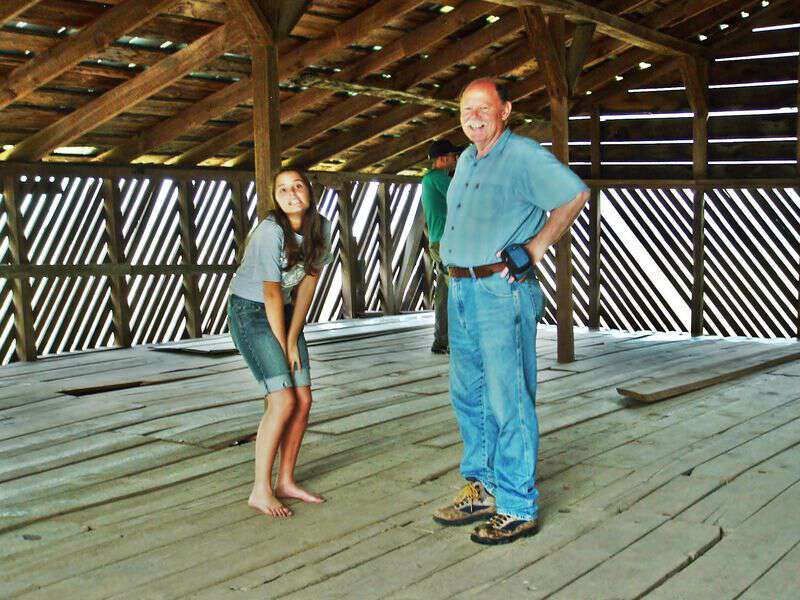 Hiding from a rain storm in Cataloochee – Lonnie and Chitter – I'm positive there was some serious joking going on between the two of them
The Deer Hunter and I were newlyweds when we first met Lonnie. Right from the start he and I hit off. If you were lucky enough to know Lonnie, you'd know he never met a stranger nor did he ever meet anyone he didn't try to help in some way, shape, or form. Now the person he was helping might have had to endure some massive teasing along the way, but that was just Lonnie's way of making sure life was fun.
It was a few years after I first met Lonnie that I ran into him at the JCCFS's annual fall festival. I was going one way on the crowded trail and he was going the other. Lonnie yelled "Hey I found out I'm related to you!" I hollered back "Well good! You can tell me later." And he did.
Over the years Lonnie and I shared many genealogy talks and many talks about our shared love for our heritage and culture that we could see quickly disappearing.
Lonnie was raised not to far from here in the same sort of home Pap was, I believe that's one of the reasons our friendship became solid from the beginning-we had much in common.
From the first day I started writing at the Blind Pig and The Acorn Lonnie was along for the ride. When I posted something he thought somebody ought to read he sent it to them and told them to read it! Whenever there was a way to support my endeavor of celebrating and preserving our shared Appalachian heritage he was right there ready to do whatever I needed.
Lonnie retired from the Marines, from the National Guard, and from the NC College System. He will be greatly missed by many in our area of southern Appalachia and beyond. My heart goes out to his family and loved ones who are grieving over his sudden passing.
In the funny way of life, I had Lonnie on my mind the morning before he passed away. It was those stacked rocks. Every time I write something about the Pine Log area I know Lonnie will be interested in reading it.
Early this morning I went through the comments he's left on the Blind Pig over the years. I'll leave you with one of them.
"Seeing these mountains in the distance is always the best part of any trip."

~Lonnie Dockery
————
Tipper