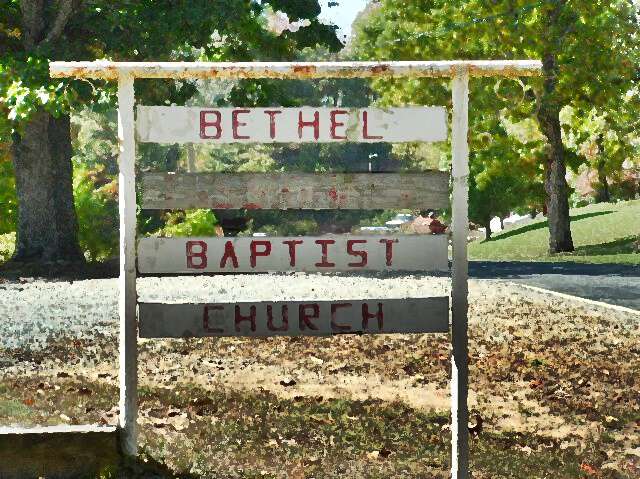 Gospel music plays a major role in the culture of Appalachia. I'm not talking about music in relation to monetary terms nor successful performers, although more than a few country and bluegrass stars got their start singing in church.
My thoughts and beliefs come directly from my own personal experiences, but I feel strongly that my statements about the relationship between gospel music and Appalachia would be shared by most who grew up attending church in these mountains.
Even as a young child I remember being astounded by the power of songs of faith. There's a palatable feeling that occurs when folks gather to lift their voice in worship. If you've never felt it, slip in the door of one of those little old churches scattered through out and listen as the choir sings and see if you don't feel it too.
One of my closest childhood friends is named Sharon. We were in the same classroom at school and we went to the same church.
We liked the singing more than the preaching-as most kids are likely to do. We knew the page number of all our favorite songs and we'd anxiously wait to see if the song leader called out one that we loved to sing.
Down On My Knees written by Mosie Lister, The Prettiest Flowers Will Be Blooming by Albert E. Brumley, I Want To Know More About My Lord by Lee Roy Abernathy, and Are You Washed In The Blood by Rev. E.A. Hoffman were a few of the upbeat songs we liked.
We had a love for the more lonesome gospel songs too. Songs like- Lord I'm Coming Home by William J. Kirkpatrick, Almost Persuaded by P.P. Bliss, Oh Why Not Tonight by Elizabeth H. Reed and J. Calvin Bushey, and Take My Hand Precious Lord by Rev. Thomas A. Dorsey.
The lyrics of those old gospel songs I grew up with lend themselves to the culture of Appalachia. I'm not suggesting that they were all written here, most were not. But the strong recurring themes of God, Jesus, love, the cross, faith, death, blood, hell, rivers, long roads, toiling, snares, mountains, shining lights, rejoicing, happiness, joy, better times to come, dark valleys, and loved ones calling come fit perfectly in the mindset of most folks born and raised in Appalachia. I would go so far as to say the manner in which they were written, the words used, strike a chord with the language of Appalachia. Maybe in the same way the isolated nature of the region played a role in the continuity of our dialect it also helped folks hold on to the sacred songs of our past.
Paul has been uploading some of Pap's older music to the Blind Pig and The Acorn youtube channel. He recently put up a few videos made from the first recording of The Wilson Brothers – Words of Life way back in the 70s. Take a listen to their version of Oh Why Not Tonight.
Hope you enjoyed the song! My favorite part is the way they say poor and of course Pap's high tenor.
Tipper