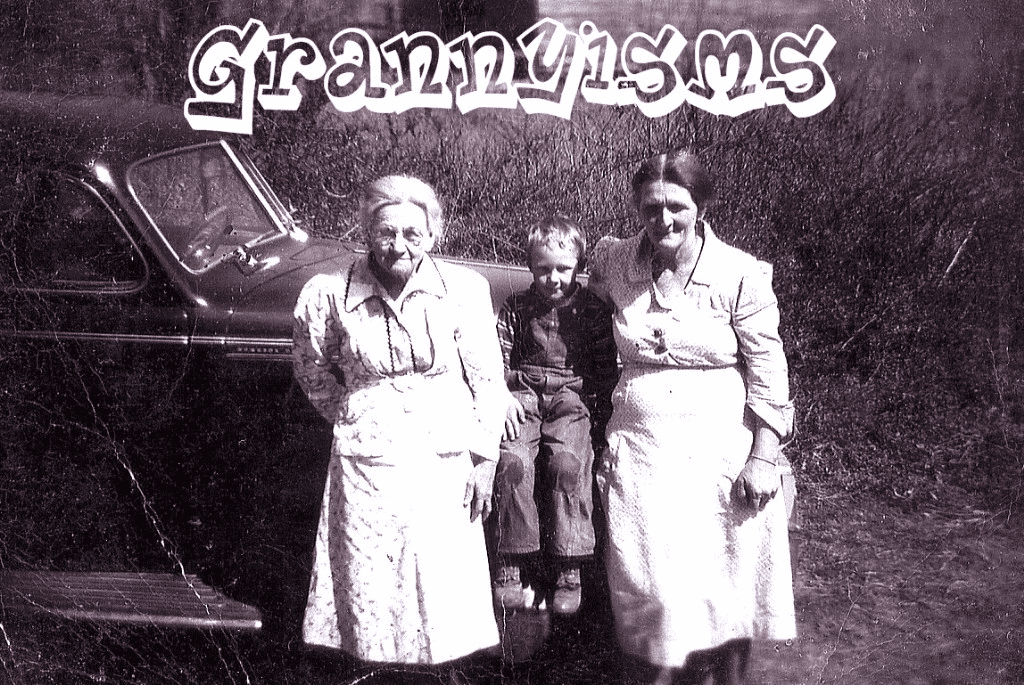 If you look at the top of this page in the menu you'll see a link to my Grannyisms-page. I've been collecting memories that are precious, funny, and inspiring about grandmothers on the Grannyisms page since I started the Blind Pig and The Acorn.
Below you can read a few of my favorite Grannyisms left by folks over the last several months.
Tipper:
Granny is always worrying about somebody taking a bad cold. Today the girls went to the gym to swim and Granny is convinced they will be sick. She said "Nobody ought to swim in the wintertime." I said "It's inside they have a dome. They cover the pool with the dome during the winter. It keeps it really warm." She said "That don't matter nobody ought to go swimming in the winter or they'll take a bad cold."
Ron Stephens:
Oh my, oh my, such a host of spunky grandmothers remembered here. And so many memories.
My Grandma Della Carter Stephens Bruce (she was married twice) was only about 5 foot 4 inches or so tall with brown eyes and dark brown, nearly black hair which she wore in a braid wrapped around her head. We think she was part Indian. As a single mother during the Depression she walked miles through the woods to do people's laundry for fifty cents. To help feed her four children she took up squirrel hunting, carrying the overalls she wore under her arm until she got out of sight in the woods. Besides being a hunter, she was a gatherer of wild fruits and herbs of all kinds, walking a mile or more from home to gather huckleberries, blackberries, peaches, walnuts, hickory nuts and greens. And then she had about a half-acre of garden which she tended with just a hoe except for the initial plowing. It was far more than she needed for just herself but she gave it away first as fresh vegetables then as canned goods.
My two favorite things that she fixed was a chewy gingerbread and dry apple stack cake. One or the other, sometimes both, could usually be found under the cake cover on top of the old wooden Gibson ice box. But she also made the grandboys shirts out of the cotton feed sacks. She wouldn't give just one of us one. She had to have one for both my brother and I before we got it. I was baptised in 1966 in a blue and white gingham shirt she made for me.
One of her expressions was to say of someone's bad judgment that they would "suck sweet sorrow" as a consequence. She said "hope" for "help" as in "Law, if I'd a knowed you was a doing that I'd a come over and hoped ye."
She hoed her garden in the mornings for two or three hours. Once when a visiting preacher was staying with us, across the hollow from her place, she was mistaken and hoed the garden on Sunday morning. When we told her, she looked thunderstruck and said, "Law, don't tell the preacher." In the main though, she was rather quiet and unemotional.
When she died at age 92 I think it was, her hair was still not yet completely gray. I miss her. She was as good as gold to my brother and I. God grant than I may leave as many and as good memories with my own grandchildren.
Frank Waller:
My granny Minnie Daniels built their own cabin in eastern Kentucky, she made her own medicines and when we got sick she took care of us. I remember she mad something that we called 'poo poo' salve because that is what it looked like. If you got any kind of wound she would smear that on and next thing you know the wound would be gone. She drank only Sassafras Tea and she called buttermilk "clabbered milk". I used to sit on her lap and comb her hair, which reached past her waist. She had the greatest stories that she would tell me. She smoked a clay pipe and sometimes corncob if we didn't have the money. She wore sunbonnets and made the greatest quilts which we would take to town and sale to the people there. There wasn't much my granny couldn't do and I am not young anymore but I still think of her.
Eldona Ashley:
I seen and I never seen were common phrases when I was growing up. Teachers tried to teach us not to use them, my grandma W and my mommy never stopped using them,
If we got a new toy, perhaps a hula hoop, we would take to the farm on Sunday afternoon. We would show my Grandma W. Her response was invariably the same, "Why, I ne'er seen the like,"
I wonder what she would think of all the games and apps on our tablet and phones. Music, CDs, DVDs and so many things would astound her!
Dedra Cook:
Tipper as I get older and my Mother gets older I think of my dear sweet Granny more often. I miss her sweet little round face. Her little black curls and big beautiful brown eyes. She always made you feel like you were her favorite grandchild. We lived about four hours away when I was younger from my Granny. But when we would go to the mountains to see her she always had a double layered chocolate cake made just for me. I remember waking up in the morning smelling bacon cooking and her humming a gospel song. I wish I had appreciated that special time when I was younger. I wish I would have really listened to all of her stories. She was a wonderful Grandmother and I can't wait to see her again when I get to the other side of glory. If we can teach our children anything about growing up, it is to enjoy the little things in life because those are usually the most important things in the world and it is the small things that you remember the most.
Tipper:
Unusual for me to be home alone especially all night, but I will be tonight. I was down at Granny and Pap's earlier. When I was leaving Granny said "Now I'm going to walk out on the porch so I can see you get home. And you call me as soon as you get in the house."
In years gone by that would have annoyed me to no end, but not now. I said "OK" and started up the hill. I smiled all the way home at Granny watching out for her 45 year old daughter and believing she could stop anything that tried to harm me by simply watching when she can't hardly get out of the house anymore. What a blessing to be loved.
———————
I hope you enjoyed all the comments. There are many more on the Grannyisms page-so jump over there and read them. And please leave one about your grandmother or mother.
For those of you who have already left a Grannyism-there is no limit. Please just keep posting your memories as they come to you.
Tipper