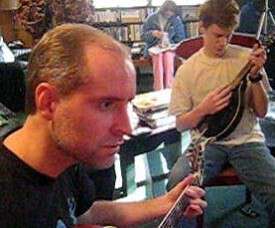 The 20th Century brought radical changes to our world. Innovations in communication, transportation, technology, and medicine changed the way people live all over the world. I've read more technological advances occurred during the second half of the 20th century than in all the time before.
I remember when The Deer Hunter first got one of those bulky bag car phones-I just couldn't help thinking "If my Papaw could see this what would he think? People can't even drive around without a phone?"  In the few years since then, the cell phone phenomena has exploded to include not just folks who work for themselves like The Deer Hunter, but to every facet of the population.
A few weeks ago I went on a field trip with Chatter and Chitter to a Renaissance Festival. It was very crowded and at one point the class got separated into 4 different groups. I was surprised when I begin to see several of the 6th graders in my group pull out their cell phones and try to reach the other groups by calling or texting. I was glad those kids had phones-because I'm part of the small minority who still doesn't have a cell phone.
While it's interesting to look back over the entire 20th Century-I'm amazed by the changes that have occurred in my lifetime. Random ones that come to mind: t.v. remotes, vcrs, video cameras, cassettes, dvds, cds, microwaves, bottled water, and of course cell phones.
Its funny, now I hear myself telling Chitter and Chatter "when I was a kid" stories just like Pap and Granny use to tell me "when I was a kid" stories. Some of their stories were about who first had electricity in their community, who had the first t.v. or phone. Related to those mine would be: our phone was a party line-meaning several homes shared the same phone line and some of them frowned on 6th grade girls tying up the line, our t.v. had 3 channels and you had to get up to turn the channel or change the volume level.
Today's Pickin & Grinnin In The Kitchen Spot features a song written by John Prine and Steve Goodman "The 20th Century is Almost Over" it has been re-worded slightly-because the 20th Century is already over.
I hope you enjoyed the music. Please leave a comment about how the changes of the 20th Century affected your life-maybe I can use them to prove to Chitter and Chatter they really do live in the lap of luxury.
Tipper