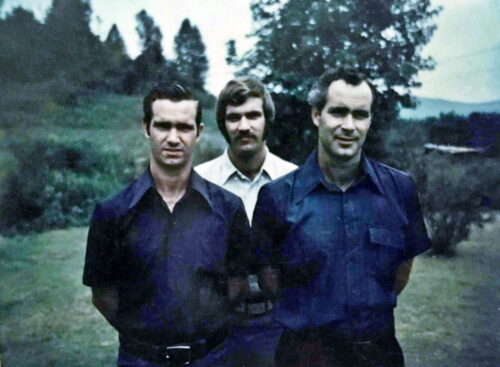 The Wilson Brothers: Ray, Henry, and Jerry (Pap)
For the last several weeks I've been re-sharing some of my favorite video recordings from Pap. I've felt especially close to him for the last few weeks. There's a few reasons why.
He died on April 19, 2016, so the month of April always brings back memories of his death which of course leads to memories of his life.
As we begin our garden each year I always think of the things he taught me about making a garden and of course I'm always wishing I could call to ask him this or that about what I'm planting or preparing to plant.
For the last couple of months I've been working on a project connected with the Martins Creek Community Center. I'll share more details about it in the coming weeks.
The conversations and research surrounding the project have brought Pap's name up over and over. I've got to see photos of him through the years as he pitched in to help at the community center in one way or another and heard many stories about his great desire to serve and encourage the community.
It was only in 2021 that Paul uploaded the video of Pap singing "God Be With You Till We Meet Again." Here's a little of what Paul said about the video.
---
This coming Monday (April 19, 2021), will mark the 5th anniversary of when Pap went on to be with the Lord. I mentioned in a previous upload (I believe around April 2019) that I was lucky enough one day to record Pap singing five classic hymns by himself, just his voice and guitar, no overdubbing, no other instruments. This was when he was in his early 70's. The songs were songs that he was in the habit of singing around that time, songs that he really enjoyed lyrically. They're all great, but this is probably the best one.
My original plan was to "release" one per year, culminating with this particular song. However, none of us are guaranteed tomorrow, and why not put this up for people to hear now?
Pap and his father, Wade, whom we all called Papaw, had an interesting philosophy when it came to "saving" things. They believed you should use your best first. This applied to food or any other resource. For example, when I was little, if we rented movies to watch, Pap would say that we should watch what we thought would be the best one first. Pap told me that Papaw told him once, "Use the best you've got first, and then from then on, you'll be using the best you've got left," and "If you don't use your best first, pretty soon, it won't be as good as it was." At first, I didn't agree with this perspective. For example, I thought when it came to stored food that it's best to eat the oldest first and work your way toward the freshest. But over time, I've found myself gravitating toward their philosophy more and more because, again, none of us are guaranteed tomorrow.
Anyway, that's why I decided to share what I feel is the "best" one now–not first but second, and definitely not last. It's a beautiful hymn with a fascinating origin. According to what I read online, the author was inspired when he looked up the etymology of the word "goodbye" and discovered that its original meaning was "God be with you."
The first time I heard the song was in an old radio broadcast of Jim Reeves, where he closed the show by singing a verse and chorus. The writer, reportedly, wrote the song specifically for closing out services. Reeves' version is quite a bit different from Pap's, and the same holds true for pretty much every version I ever heard.
When Katie and Corie (aka Chitter and Chatter) graduated from Young Harris College, I felt like I sensed that they were wishing Pap was there to see it. Ironically, the YHC choir sang this very song as the opening hymn in the ceremony. Though their version was very different from Pap's, it was beautiful.
---
The song seemed a fitting one to end my little series of Pap's songs because of the meaning the lyrics proclaim to the part of my heart that misses him. It also seemed fitting for the mood I've been in, I suppose you could sum it up in one word: lonesome.
I'm sure part of my lonesomeness is due to Chatter getting married. Part of it comes from flipping through so many photos from the community center of folks and places that are no more even though they loom large in my memories. Part of my lonesomeness comes from the warp speed at which the world is changing.
The photo of Pap and his brothers was taken here in Wilson Holler. If you look close you can see a shed behind them. It's been gone for more than 30 years, but I still remember it and another one on the other side of the road just down by the curve. Where in the world did the time between then and now go? 🙂
But my lonesomeness is tempered by all the goodness that surrounds me: A new son, time to spend with Granny, having my work be something that brings me great joy and supports my family, seeing the green bounty I live smack dab in the middle of come back to life, and listening to the beautiful music Pap made and shared with his family.
Tipper
Subscribe for FREE and get a daily dose of Appalachia in your inbox
Blind Pig & The Acorn Music