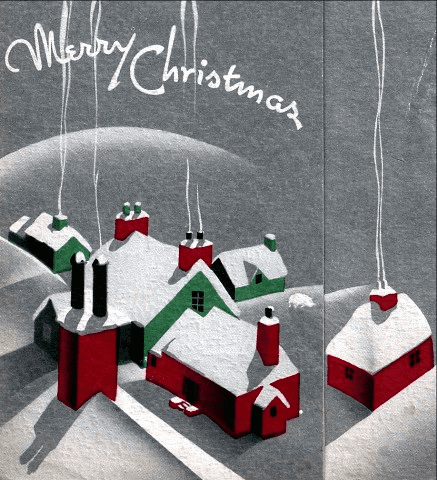 Our First Christmas In The Matheson Cove, written by Eddie Lee Mull Garrett
In December, 1936, I was not yet enrolled in elementary school. Even so, I remember many details about our family moving into the Matheson Cove. On 'moving day' my little sister, Bennie Louise, my brother John and I were busy helping my mama load up our wagon. She told us to pack everything. With a smile on her face, mama said, "We are not coming back. We are moving to our very own place!"
Soon we were settled into the back of our wagon and bundled up with mama's quilts. The wind blew cold against our faces! Mama and daddy were smiling; talking about 'Our First Christmas' in the Cove. Bennie Louise whispered to me about Santa Claus. John declared, "Santa will not find our house in the woods!" I did not want to think about Santa. In the back of our minds we knew he would not stop at our house. He had never brought toys to our old house!
A few days after we had moved into our new house mama asked daddy to go cut a little field pine tree for our first Christmas in the Cove. My older brother, William, and sister, Ida Jane, got busy making paper roping for the tree. My mama popped some popcorn. Then we strung the popped corn on sewing thread to make strings of snowy white decoration. Soon our little Christmas tree was beautiful. I loved it! We were ready for Christmas Eve!
The three older children did not talk about Santa. As we lay in bed that special night, whispering, Bennie asked me if I thought Santa Claus would come to our house. Softly I whispered, "Shhhh! Don't think about it!" So she just closed her eyes and tried to go to sleep.
Awakening on Christmas morning, we rushed to the pretty Christmas tree. Sure enough there was not one shiny toy, not one pretty doll under our tree! But there were five brown paper pokes filled with something special.
After our morning prayers, mama and daddy handed each of us a brown paper poke and wished us a "Merry Christmas!" Inside our poke we found an orange and a stick of peppermint candy. We were so happy that mama and daddy had done that for us. After a warm breakfast, the boys went sledding on the sled which daddy had made. My sisters and I stayed inside and cut paper dolls from the Sears Roebuck Catalog. That night mama made snow cream for us. It was a mighty fine "FIRST CHRISTMAS" seventy years ago in the Cove!
That was the way we celebrated Christmas all through the years. Our family grew to include six more children. We did not know about such things as television, video games, computers or China. We were happy and at peace in our quiet world.
written by: Eddie Lee Mull Garrett (December 2006)
A special thank you too Eva Nell Mull Wilke for for sharing her sister's article with us. Hope you all enjoyed it as much as I did!
Tipper