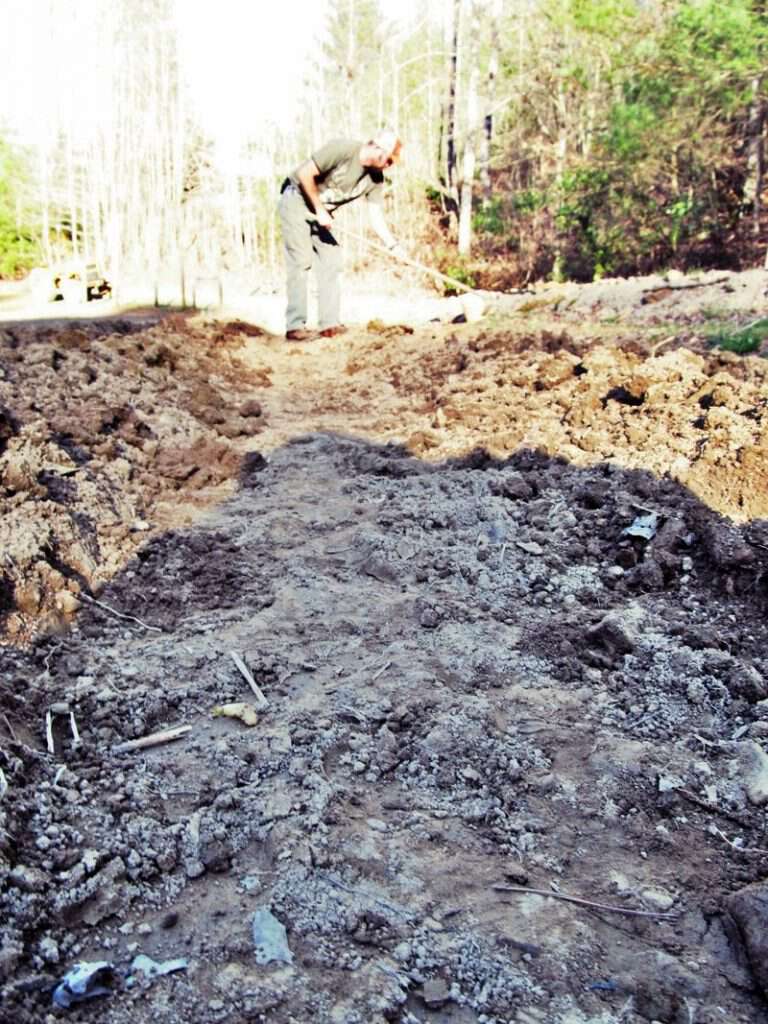 Dictionary of Smoky Mountain English
New ground noun [ sometimes with stress on ground ] An area newly cleared for cultivation by grubbing, log rolling, etc. (usu in such phrs as prepare a new ground, clean off a new ground, grub a new ground, break up new ground). See 1961, 1995 citations.
1842 Crosby Journal/Account Book 101 Planted the lower New Ground Corn the first week of April and Planted the Upper New Ground 2nd week in April. 1914 Arthur Western Nth Car 254 Land was plentiful in those primitive times and as fast as a piece of "new ground" was worn out, another "patch" was cleared and cultivated until it, in its turn, was given over to weeds and pasturage. 1939 Hall Coll. Saunook NC After breakin new land, it's new ground and it not called such after two or three year. Sprouts of sassafras, locust, and running briers come up during that time and you have to keep 'em cut down,. (Robert McClure) 1956 Hall Coll. Cosby TN Every man, he'd grub and clear up a piece of land, new ground, in the winter time. They'd have log rollin's in the spring. (Reuben Williamson) 1961 Medford History Haywood Co 74 The log rollin's and burnin's in those days before the Civil War (and for a long time afterwards) came from clearing up "new grounds." Thousands upon thousands of big prime logs (that would today be worth from ten to fifteen dollars or more per log) were rolled off the new grounds and burned or left to lie and rot. 1970 Foster Walker Valley 4 Right back east there, the way that you got your fuel, you cleaned up, you called it new ground. Just go out in the woods and you cleaned up some every year was the way my father done it. 1980 GSMNP-115:53 And they used to have grubbings. People would get together and go in and just have grubbing, grub up little new grounds, you know, for a man. 1982 De Armond So High 63 Long before the first bud appeared, Robert and two of his neighbors were busy clearing the "new ground." 1989 Oliver Hazel Creek 15 This process of clearing a field was referred to as making a new-ground, and it was slow and arduous. 1994 Landry Coll. We'd take axes and things and clear the foreses to make new ground to plant corn next year. c1995 Cades Cove 5 Huge trees were cleared by girdling them with an axe. The first crops were planted among the soon-dead timber. After a few years the standing trees were cut down, rolled into piles and burned. Orchards and permanent fields followed quickly on the "new ground." Common sense told farmers to reserve the flat land for corn, wheat, oats, and rye.
——————————-
I've had new ground on my mind lately. I've thumbed through the Sow True Seed Catalog until I've about wore it out. I wish I had ample space to plant all the varieties my heart desires, but I know  well living on the north side of the mountain limits my scope in both sunshine and available new ground.
Tipper