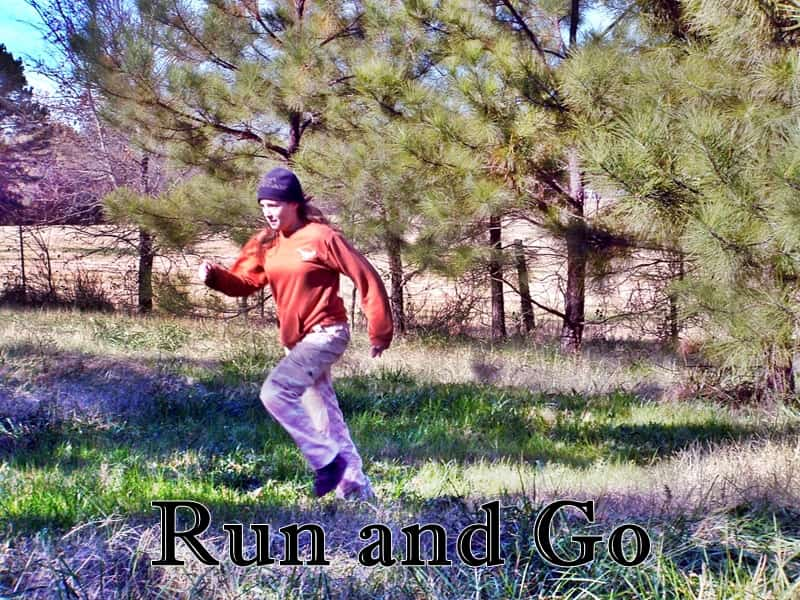 running go (also run-ago, run and go, run 'n go, runny go, run to go) noun A running start, leap, or attack on, an energetic charge toward or against.
1915 Dingus Word-list VA 189 run-an'-go = a run before leaping. 1939 Hall Coll (Hartford TN) [The bear] wheeled back on the dogs. [The bear hunter] took a run-ago an' run his arm into that hole he cut into it, an' run it right up about his heart. 1955 Ritchie Singing Family 21 I snatched up an old broom handle lying in the yard and took a runago at the homemade screen door and rammed that stick plum through.  1956 Hall Coll (Del Rio TN) I took a run-ago at it and just frailed it. Ibid. (Newport TN) She took a runnin'-go at him. 1973 GSMNP-79:17 You could play out in the hallway where they'd waxed it, you know. We'd make that for a slide. Take a run and go and just slide all the way down to the hall and then up again.  1976 Thompson Touching Home 17 take runny go = to get a running start. 1978 Bird Traps 74 Let's take this umbrella, take a run to go, and jump out that lower door [of the barn]. 1991 Haynes Haywood Home 55 When it was really cold, ice skating on the branches and creeks was fun if we could get away with it. Of course we didn't have ice skates, so we'd take a running go and slide on our shoe soles. 1998 Dante OHP-51 The train had to go up and go way up here and get a run and go and come back. 2005 Williams Gratitude 519 run 'n go = to back up to get a good start and gain momentum as you run. For instance, if somebody was to try to jump over a fence or high bar, he'd back up and take a run 'n go at it. [DARE running go n southern Appalachians]
Sample Citation from the upcoming Dictionary of Southern Appalachian and Smoky Mountain English
—-
2019 Blind Pig and The Acorn January 24 Post To make it easier to carry into the house they'd rigged up a ramp out of old planks so that if they got a good run and go, along with a little help, they could push the wood all the way to the door of the house.
Tipper
Subscribe for FREE and get a daily dose of Appalachia in your inbox