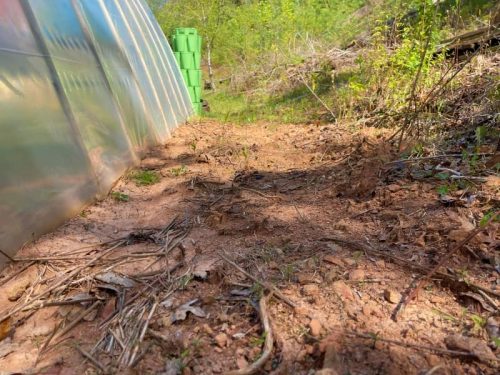 The Dictionary of Smoky Mountain English offers the following definition for patch farming:
1972 Graham County 50 With the first stages of early clearing, the farmer did "patch" farming near the cabin. Many farmers today still speak of a "patch" of corn or other crops. The farmer gradually and systematically extended the patches into wider fields by each year extending his farming into a new area known as a "new ground."
Back in the day when I first started gardening I read all sorts of books and magazines on the subject. I was fascinated by the articles which showed how much food could be produced in small raised beds.
I remember telling Pap about what I had been reading and he got this smile on his face. I said "What?" He said "Why Tip people around here have been growing gardens like that since I was a boy, only nobody called them raised beds. But every wife would have her a little garden patch right close to the house where it'd be handy for her to tend it and for them to eat from it too."
Then Pap showed me, you don't have to break the bank to build those little garden patches aka raised beds.
We found some tree branches The Deer Hunter had cut and thrown in the woods and formed the beds. Pap showed me how to fill the bottom portion of the new patch with leaves, then dig a few buckets full of dark loamy soil from the edge of the woods to put on top.
In the years since Pap first showed me how to form little garden patches I've made them all over the yard, one here and one there, gradually increasing their size and building up the soil all at the same time.
I've used all sorts of logs, branches, and rocks to form the sides basically anything I could find that was handy. And I've discovered: if you're able to fill the patch with 12 inches of good loose dark rich soil like the gardening books tell you to that is wonderful. But if you're like me and you're really doing good to end up with 3 or 4 inches of so so soil it still works better than trying to grow vegetables on top of hard packed dirt.
We've about run out of room for new patches, but this year we managed to enlarge our biggest garden patch by moving the rock border over about a foot and a half and we're planning to make a long narrow patch behind the greenhouse.
Those little patches here and there and can boost your vegetable production in an amazing way.
Tipper
Subscribe for FREE and get a daily dose of Appalachia in your inbox