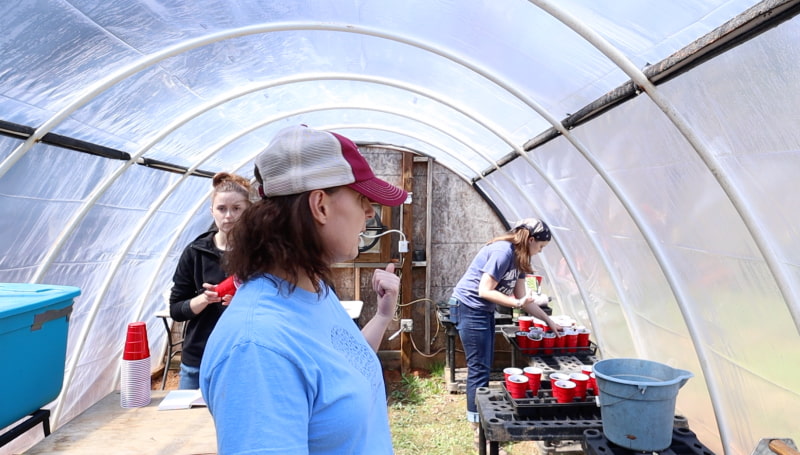 We've got all our seedlings planted for this year's garden…at least I think we do!
I started cabbage and peppers back in February and over the weekend we got the rest of the stuff planted.
My cabbages are about big enough to put in the garden. I'm going to grow them under row cover for the first time ever. Ed Ammons shared his success with growing his cabbage under cover last summer and I had a birds eye view of the row cover successes at John C. Campbell Folk School so I'm excited about trying it and hoping it keeps my cabbage bug free.
Here's the sweet pepper varieties we started:
Golden Marconi
Sweet Banana
Marconi Red
Shishito (first time ever growing this one)
King of the North
Yolo Wonder
Habanada (first time growing this one)
Here's the tomato roundup:
Cherokee Purple
Black Cherry
Aunt Ruby's German Green (first time trying this one-Chitter got it for me for Christmas)
Mountain Princess
Nebraska Wedding (another gift from Chitter-never tried it before)
Ace 55 (never grown this one before either)
Orange tommy-toe (I saved the seed from tomatoes David and Carolyn Anderson shared with me)
Juliet (I'm so excited about this one! JCCFS grew it last year and I just loved it for drying)
Sun Gold (another one the Folk School grew that I'm excited about)
Other things we started:
Chamomile
Feverfew (I've tried this one so many times I'm not sure why I keep trying)
Mint
Rosemary
Dill
various flowers
The greenhouse isn't the only place we have things growing.
Out in the garden we have cabbage, onions, radishes, lettuce, spinach, beets, kohlrabi, and garlic.
I bought two green stalk tower planters and in one of them I have some radishes and peas up and growing. I planted strawberries in part of one, but I can't see any sign of life so far.
And last but not least we're still eating on the kale I planted last fall.
I shared our seed starting in my most recent video. To watch go here.
Tipper
Subscribe for FREE and get a daily dose of Appalachia in your inbox