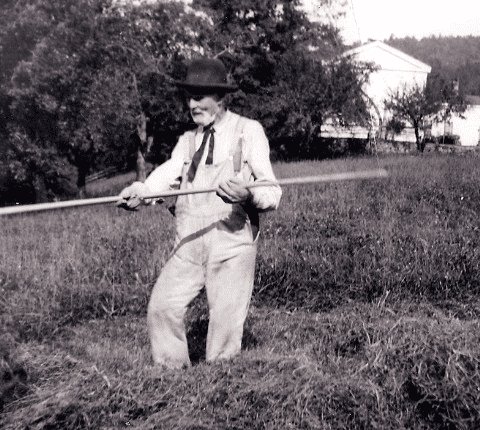 A comment left by B. Ruth got me to thinking about all the old folklore I've heard about the garden and about the outdoors in general.
Never plant vegetables that sound alike together. Think potato and tomato. (Pap told me that one)
Never say thank you if someone shares their flowers or plant cuttings with you-if you do they will die. (I've heard this one my whole life-and man is it hard not to automatically say thank you when someone gives you plants)
If you find a horse shoe-you should hang it in the nearest tree for good luck. (It's not as common to find horse shoes now-as it once was. I have found a few in the big garden-but I hung them on my porch instead of a tree)
Finding a 4 leaf clover is good luck. (My sister-n-law can walk outside and find a 4 leaf clover instantly-I don't think I've found more than 2 in my whole life)
To keep crows from bothering your garden, kill one and hang it nearby.
Trees that bloom twice in one year will have a bad crop. (Pap says he's seen June apples bloom twice more than once)
If you spit in your hands when cutting wood-you'll have good luck. (Pap said-the spit just helps you hold on better. Holding on to the ax always = good luck)
Don't plant your garden until the oak leaves are the size of mouse ears. (from B. Ruth)
Always plant your potatoes on Good Friday.
Plant your greenbeans on Good Friday.
Anything planted on the first day of Spring will live.
Bury nails around the roots of Hydrangea to make the blooms blue.
These last few are courtesy of Scott Nicholson:
Grass won't grow where human blood has been spilled.
Flowers which bloom out of season are evil. (I'm not sure why-but this one is my favorite)
Dreaming of thorns is bad luck.
Tomatoes should be planted on Memorial Day.
It's good luck to steal herbs. (what?)
A snowy winter portends a good year for crops. (most of the US should do well this year)
After planting a hill of beans, press the soil with your foot for good luck. (Pap always does this-who knew it was lucky-I always liked seeing his bootprints on top of all the mounds-somehow it seemed like the bootprints symbolized a job well done)
Planting peppers when you're mad, makes the peppers grow hotter.
If 2 people's hoes hit together, they will work in the same field next year.
Makes me wonder who started the sayings and why. Have you heard any of these before? Do you have any to add?
Tipper