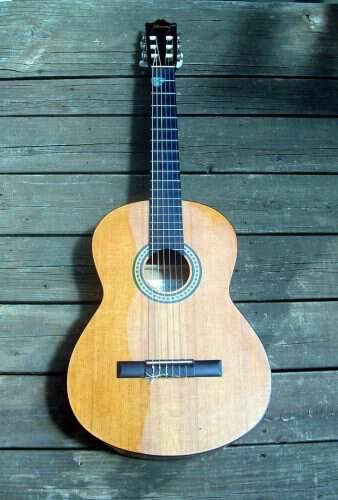 Last Summer, Paul found a steal of a deal on a used guitar-an Ibanez Classical. Even better he offered it to me-well actually he offered it to you. He said I could give it away on the Blind Pig-he's nice like that-but mostly he's appreciative of the support given to his music by Blind Pig readers. From the comments-to the cds sold-none of us can believe the positive response you've given to our music.
Once he bought the guitar, I began dreaming and scheming about a Spotlight on Music in Appalachia. I soon realized-the scope and breadth of the subject is impossible to fully understand, comprehend or most certainly to contain in a series of posts on a blog.
A blue million questions soon followed: Where would I start? Where would I end? Should I focus on one type of music-the world famous ballads still sung here today-bluegrass-oldtime-gospel? Should I go through each instrument that's traditionally played? Should I try to get big companies like Gibson or Eastman to sponsor me? (I did-they ignored me)
Just as I was about to give up on narrowing the scope of the spotlight into something manageable-I realized I kept returning to one central point: It matters not if you're talking about old-time string bands, the simple sounds of a mountain dulcimer, haunting spirituals sung at alter calls, hot licks from the latest progressive bluegrass band, or the Blind Pig gang pickin' and grinnin' every Sunday afternoon in Paul's kitchen-what does matter-music is an integral part of life in Appalachia and it has been since the beginning.
So I finally accepted-the Spotlight on Music in Appalachia will take us where it will-and that'll be just fine. Along the way-we'll have:
interviews highlighting the efforts being made today to ensure the music of Appalachia continues to thrive
interviews with performers
guest posts
giveaways-including the Ibanez Classical Guitar
and whatever else the winds of music in Appalachia turn up for us along the way
Stay tuned for the next installment-and the details on the guitar giveaway.
Tipper