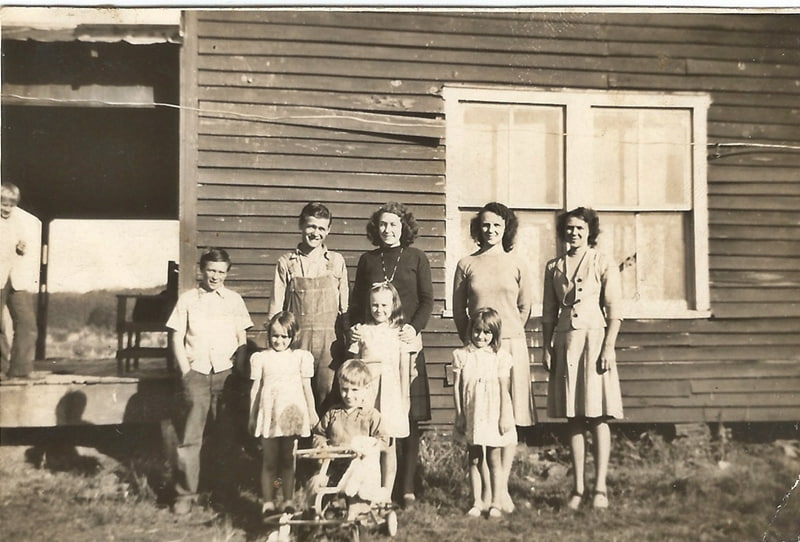 The Jenkins family (Front: James; Second: Mary, Geneaieve, Louzine (Granny); Back: George, Junior, Dorothy, Jean, Fay
Yesterday I received the following comment on an old post.
Nancy Smith: "Don't know if you are still blogging but in my search for the Christmas gift shout out your post came up. My mother was from East Tennessee in the foothills. Her whole family did this and both on Christmas Eve and Christmas Day. I've continued it with our family. Love that I'm not the only one!!"
Several weeks back someone ask about the tradition of saying Christmas Gift on the Blind Pig & The Acorn Facebook page and left this link about it.
Over the years I've written about being the first to say Christmas Gift. Here's a few comments from years past.
Bonnie Dunston: "My mother in law would shout out Christmas gift early Christmas morning. She was born in 1929 and grew up in northern Alabama. I regret never asking her about the meaning."
Darlene Debty Kimsey: "My Granny said this too but I never knew it was a game. She would call her sister, children, etc and say it. And just like your family, when someone new came to the door, she would shout it and they would shout it back. Thank you for posting this as it brings back wonderful memories."
Bobby C: "I'm soooo glad you posted this! For as long as I can remember, my family has made those same calls. Funny, my family has always done "Christmas Eve Gift"…AND "Christmas Gift"! I was always trying to call my Grandpa on Christmas Eve morning and Christmas to try to get him, but he would always answer the phone with a shout of "Christmas Eve Gift" or "Christmas Gift"! I guess anyone who wasn't familiar with the game was left wondering whenever they called him because he wouldn't dare answer the phone any other way on those days! Then as we would gather at their house for Christmas, everyone would yell "Christmas Gift" as they entered the door. My Grandpa passed away in January, but the game lives on. "Christmas Eve Gift" were the first words out of my 12 year old daughter's mouth this morning. Now my wife, who only grew up in the next county over, had never heard of this until she married into our family.
Oh…and in case I didn't say it already…"Christmas Eve Gift Tipper!!!" Guess that means I'm due a present. 🙂 Merry Christmas to you and your family and God's richest blessings!"
—-
When I was growing up the very first thing Granny would do on Christmas morning was call her sisters and say "Christmas Gift" loudly into the phone. Some years one of her sisters would call her first.
Once our gifts were opened on Christmas morning we went to Granny's mother, Gazzie's house to eat Christmas Dinner. Throughout the evening a stream of people would drop by to visit. One bunch would say their goodbyes and then before you knew it they were replaced with the next bunch coming in the front door. It seemed every time the door opened to a new face-someone would shout "Christmas Gift" at them.
I never gave the little game Granny and her family played every Christmas much thought when I was growing up. It was only after I started the Blind Pig and The Acorn that I learned the ritual was actually wide spread throughout the mountains of Appalachia.
For the last several years I've called Granny early on Christmas morning and shouted "Christmas Gift" into the phone. She always says the same thing after she laughs "Well you got me didn't you."
Tipper
Subscribe for FREE and get a daily dose of Appalachia in your inbox