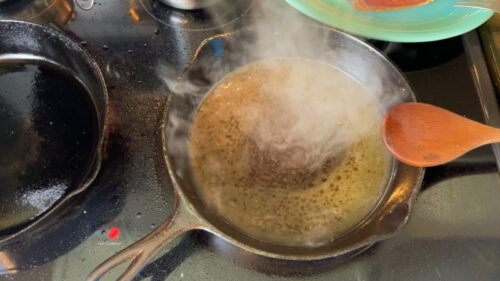 About this time last year I shared a question with you that I received from a reader who wanted to know how to make red eye gravy.
I shared the question with you, because I had never made red eye gravy nor even eaten it more than a couple of times.
A lot can change in a year—I've been making red eye gravy almost every weekend.
I found some pretty good salt cured ham at a local grocery store. Sometimes we eat a slice of ham for supper, but mostly we've been eating it for breakfast on Saturday mornings.
It's so quick to fry up and making the gravy is a simple as pouring hot coffee into the hot grease and letting it simmer a few minutes while scraping the bottom of the pan to make sure all that ham goodness ends up in the liquid too.
The Deer Hunter just loves the red eye gravy and I must admit I like that it's so much faster than making traditional flour gravy with meat drippings like I usually do.
Here's a bit about red eye gravy from Joseph E. Dabney's book "Smokehouse Ham, Spoon Bread & Scuppernong Wine."
"The name, for instance, was said to have been coined by that great Scotch-Irish frontiersman, Tennessee's (Carolina-born) Andrew Jackson. Presumably the future president named it thus when he observed the eye winking in a bowl of gravy fresh out of the pan. But where did the color red get into the act? Mark Sohn theorizes the red eye is represented by the bone one cuts in slicking a large piece of ham. Another story credits a red-eyed drunkard who made a respectable ham sopping gravy under the watchful eye of Old Hickory himself.
But wait: This ham gravy has other names. Bird-eye gravy is what people on Sand Mountain, Alabama, call it. In upstate South Carolina, my father always bragged on "Miss Wincey's muddy gravy." So take your pick.
Whatever the name, red-eye is a simple yet classic gravy that depends only on the leftover drippings of fried ham, plus water, and /or perhaps coffee. Some mountain cooks prefer to use only coffee as the liquid. Olene Garland told the Foxfire students that she poured coffee over the ham while it was cooking. After it reached boiling, it was time for the gravy to be poured up (and the ham taken out) for serving.
—Joseph E. Dabney "Smokehouse Ham, Spoon Bread & Scuppernong Wine"
---
Tipper
Subscribe for FREE and get a daily dose of Appalachia in your inbox