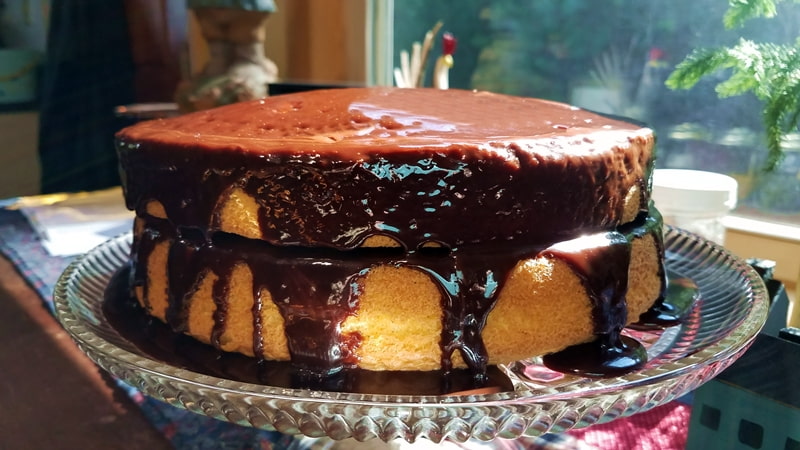 Pap was really partial to coconut cakes. Especially the ones Granny made with blackwalnut pieces hidden between the layers and fluffy white icing. Another cake he asked for often is really simple: a yellow or white cake with chocolate icing poured over it.
Granny's made the chocolate cake forever. When I was young I'd run my finger along the pond of chocolate at the base of the cake when no one was looking.
One day I asked her where she learned to make the cake. She said her mother Gazzie made it often to feed the bunch that gathered at her house on Sundays. Granny said "I never could get my chocolate to turn out like mother's until Lucky (her brother) shared the right recipe with me."
Yellow Cake with Poured Chocolate Icing
One yellow or white cake mix baked according to directions in two cake pans (or you can whip up a homemade cake!)
Chocolate Icing
1 cup sugar
1/3 cup butter
1/3 cup milk
1/4 cocoa
Place ingredients in small sauce pot and bring to a full rolling boil. Take pot off heat for several seconds and then return to heat and bring to full rolling boil. Remove pot 4 times and put back on to bring to full rolling boil. Sounds crazy I know! But it works.
Once cake is baked, set one layer on cake plate and slowly pour or spoon icing over it. Add second layer on top and slowly pour or spoon on the rest of the icing.
This cake is super simple, but so tasty! The icing takes on a slight crunch which just adds to its chocolaty goodness.
Tipper
Subscribe for FREE and get a daily dose of Appalachia in your inbox