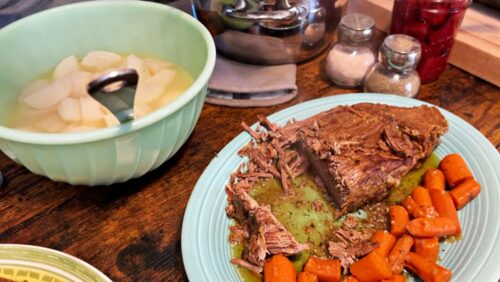 When The Deer Hunter and I were first married I often made pot roast. It was a meal I could throw in the crockpot and forget about while I was taking care of baby twins.
Somewhere along the way I quit making pot roasts in the crockpot. The Deer Hunter loves to use our cast iron dutch ovens so he will often cook a roast that way.
A good while back I suddenly remembered the ease of cooking pot roasts in a crockpot and the method Granny taught me when I was growing up.
It couldn't be simpler.
Season to taste and brown your roast in the oil of your choice in a frying pan.
Transfer roast to crockpot and sprinkle with a packet of onion soup mix (or make your own onion soup mix-here's a good recipe).
Scrape up all the tasty bits left in the frying pan from browning the roast and pour it over the soup mix.
Add any combination of carrots, potatoes, and onions you want to the crock pot.
Cook for several hours until done.
Some folks like to add beef broth to the crockpot or water. Sometimes I had a half of a cup of beef broth, but more often than not I don't add any liquid other than the pan drippings. I've also seen recipes which suggest adding a can of mushroom soup but I've never tried that.
It's a pretty fool proof way to cook a pot roast. I'm glad I remembered one of my favorite meals from when the girls were little and I was a young wife and mother.
---
Last night's video: Eating Stewed Turnips and Pot Roast for Supper in Appalachia.
Tipper
Subscribe for FREE and get a daily dose of Appalachia in your inbox