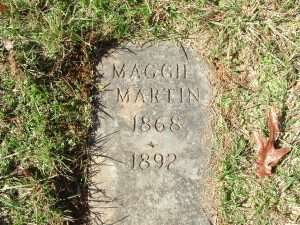 When the leaves began to turn last fall I started thinking of Maggie. In the beginning I'm sure I was actually thinking of Maggie's Chapel Church, but before long my mind had settled on the Maggie it was named after and I knew I wouldn't be able to ignore the prickling feeling I had until I figured out who she was. Years ago I found the oldest gravestone in the church cemetery was Maggie Martin 1868-1892. While I pondered the church's namesake I decided Maggie Martin had to have something to do with it.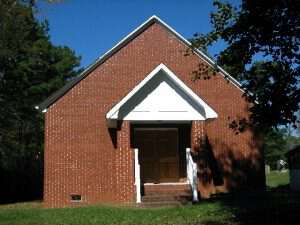 I pass Maggie's Chapel every day. If you look through the sparse woods from the road you can see the church standing like a sentry. But even if you don't look, you're reminded of the church by the sign that sits close to the road. You barely have to avert your eyes from the highway to see it.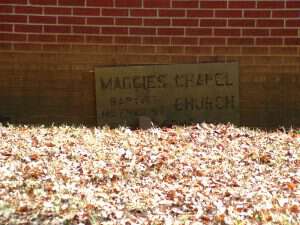 (notice the old sign: Baptist Methodist)
As I was sharing my memories of Maggie's Chapel with you the other day, I left out one interesting tidbit. Over the years the church has shared a dual denomination. An occurrence that might be considered odd in most areas, but here in strong Southern Baptist country it seems downright impossible. Pap told me throughout his lifetime the church had went back and forth between the Baptist and Methodist denominations and since the congregation was mostly neighbors, family, and friends more often than not it was a mixture of the two.
After the question of who Maggie had settled itself deep in my brain I called Pap. Right off he thought he might know who Maggie was. Pap said "If I recall right when Ab Bullard and his wife come to this country, all the way from Cherry Log GA, they brought their old Mother with them and I think her name was Maggie. And it seems like I remember her getting folks to try and improve the church cause at that time it wasn't much more than a lean to."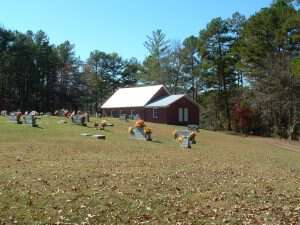 I must admit, I was disappointed with Pap's lead. I mean I'm sure the elderly lady was nice and all, but I already had this picture of Maggie in my mind and that didn't fit it. This whole little episode shows how smart Pap and I are.
It took me longer than I want to admit to realize the Maggie Pap remembered couldn't have had anything to do with the naming of the church. Even if Maggie Martin's gravestone didn't have anything to do with it either, there are enough graves that date well before Pap's birth to show the church was already in use before Maggie and the Bullards came to this country from Cherry Log GA.
While I was asking around, someone suggested since it had been a Methodist church I should contact the Methodist Association because they kept records of all their churches. I did, and a very nice lady did some research for me, but she couldn't even find a record of there being a Methodist Church in Cherokee County named Maggie's Chapel.
In the meantime, Maggie kept needling me to find her. I made more than a few trips to the church, but that didn't do anything but intensify the feeling that Maggie wanted me to know who she was. One day as I was searching an online genealogy database I stumbled upon Jean Darnall's name and email. Her email was listed as a contact person for information concerning Cherokee County NC. I figured it was a stab in the dark, but I fired off an email about Maggie to Jean. I figured I'd probably never hear back from her. In only a few hours Jean answered my email and better than that she had information about Maggie…the right Maggie.
—————————
Jean sent me this:
I found out more about "Maggie Martin", whose gravestone image you sent:  I found information about Maggie and her birth family in the following reference books:
1)  Grindstaff, Irene Collett.  "Hugh and Amanda Stalcup Collett"  The History of Cherokee County North Carolina, Vol. I.
Page 124.
2) Collett, Anna Drake Roper.  "Abram and Mary "Polly" Stewart Collett"  The History of Cherokee County North Carolina, Vol. I.   Page 123.
3)  Freel, Margaret.  Our Heritage-the History of Cherokee County, North Carolina.  Reprint.  Pages 263-264.
SUMMARY:
Margaret Eugenia "Maggie" Collett was born Aug. 14, 1869 and died 1892.  Her parents were Hugh Mack "Hugh" Collett and his first wife, Amanda Stalcup (Hugh went on to marry three more times).  Maggie was one of 10 children of Hugh and Amanda (Stalcup) Collett.  Maggie's paternal grandparents were Abraham "Abram" and Mary "Polly" (Stewart) Collett, who were the first settlers in Valleytown, Cherokee Co., NC.
Maggie's birth family played an important role in the settlement of Cherokee County, NC.  According to these sources, her grandparents, Abram and Polly, arrived in Valleytown (called the Cherokee Nation when they arrived) in 1830.  Abram received grants of land from the U.S. government amounting to hundreds of acres, but he chose to purchase the same land from his close neighbor and friend, Junaluska, the Chief of the Cherokee Nation, thus preserving good relations. Abram was elected ranger from Fort Butler, later the town of Murphy, in 1839.
—————————
After reading Jean's research I was impressed that Maggie had a direct connection to the first white settlers of Valleytown-her grandparents. But still the question remained-was the church named for her?
—————————
Jean had the answer to that question too:
The Heritage of Cherokee County, Vol. II has a family history which I believe answers your question. Among the family histories in this volume was one titled "Julius John B. and Maggie Collett Martin" (#1094 on page 259). This family lived in the Brasstown section of Cherokee County, and they were responsible for the formation of this cemetery.
Here's an excerpt:
"…One Sunday afternoon, when Julius and Maggie walked to the top of the hill above where they lived, Maggie pointed to a place and told Julius that is where she wished to be buried.  A short time later Maggie passed away. Julius saw that her wish was granted. He gave the land for the cemetery. Soon others were interred there and a small church was built. The church is known as Maggie's Chapel. Both Baptist and Methodist congregations use this church…"
—————————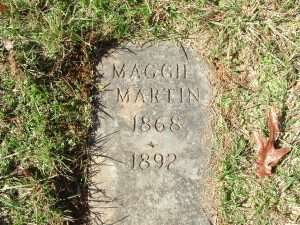 Maggie and her husband Julius had 3 sons: Hamilton, Verlin, and Jeff. After Maggie died, Julius went on to marry again. He and his new wife, Ada, had 9 daughters and moved to the Martins Creek section (the next community over) of Cherokee County. Many of his descendants still live in Martins Creek and the surrounding area today.
Maggie would have been 24 when she died. A young mother of 3 children barely has time to catch her breath much less point out where she wants to be buried. Makes me think she knew she wouldn't be on this Earth much longer when she showed her husband where she wanted her final resting place to be.
After I told Pap what Jean had shared with me, he said he could remember an old falling down house that sit just below the church on the left side of the driveway down in a little hollow when he was a young boy. Could that have been Maggie and Julius's house? Maybe…probably.
Since I've been old enough to notice such things I've seen the yellow bells and spirea that bloom in the woods just where Pap remembers the old house.
As I drove to and fro this spring the flowers seemed especially sweet to me. I thought of Maggie just a young slip of a girl who probably planted them herself, never dreaming a church would be named after her, a church that would continue to influence her community through the coming generations; never dreaming her memory would nudge a Brasstown girl to discover who she was over a 100 years later.
Tipper
p.s. THANK YOU Jean-for helping me find Maggie!