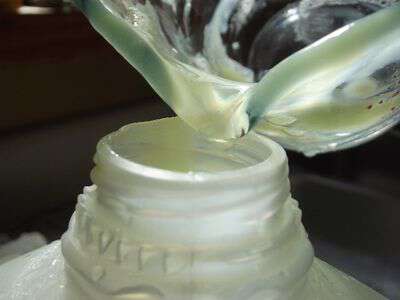 After Miss Cindy started making our laundry detergent, I figured there were probably recipes out there for laundry softener as well. A quick google told me I was right.
There are several recipes on the web. Wanting immediate gratification I chose one with ingredients I already had on hand-which were:
6 cups water
3 cups vinegar
2 cups hair conditioner
I don't use fabric softener all the time-and when I do use it-I'm not worried about the softness of our laundry-I HATE static cling. But thankfully, it seems static is only a problem for us during the winter.
To be honest with you-I was totally not impressed with the softener I made, and I never made it again.
Since then, I've read many people (including some of you) use vinegar in their rinse water to soften their laundry and combat static cling and are thoroughly pleased with the results.
I don't mind doing laundry. I think it's because I can see I've accomplished something-or maybe it just makes me feel more in control. The Deer Hunter and I had the same washing machine for many many years. Nothing special-but it did accomplish what it was supposed to do.
Well over a year ago the old machine finally bit the dust. We were slightly shocked when we went to pick up a new washer. We were shocked by the prices! But we were also shocked that we couldn't find a washer like our old one. Every washer looked like a space ship and touted it's energy and water efficiency.
I'm all about saving energy and being more efficient-but I'm also all about having a washing machine that actually washes. But what could we do? We came home with a new washer and I've disliked it since that very day.
The washer 'senses' how much water you need. There isn't a small-medium-large-extra large setting like my old washer had. The sensing would be great-if it actually got the clothes clean-sometimes it doesn't even get the washing powder dissolved all the way.
And as for adding something to the rinse cycle-forget about it. The washing machine locks its self shut and will not open until the wash cycle has been finished for about 15 minutes. Did I mention it was slow as Christmas?
Anyway now that I've pitched a fit about my washing machine: how about you-do you use fabric softener? Have you ever made yours? Do you use vinegar in the rinse?
Tipper