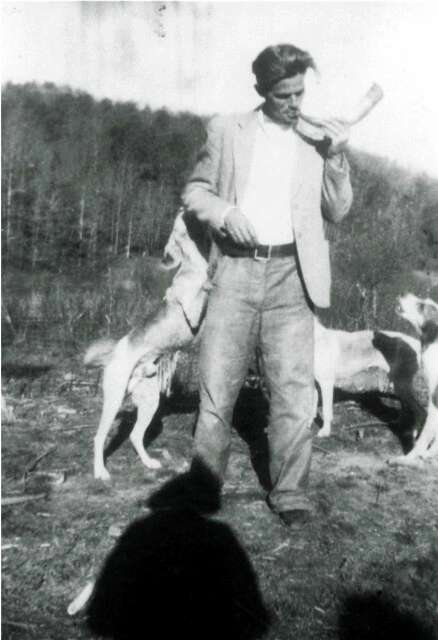 Papaw Wade and his dogs
Since I first started writing here on the Blind Pig one truth has proved itself over and over: you never know where questions will take you.
As will often happen, I already had the thought of wood meandering around my brain when GW Newton sent me the story about his Mother and lightered wood. Falling in love with his mother's fierce independent determination led me down a whole different road.
Somewhere along the dirt path that went from dead chestnut trees to rich pine I took a u-turn and went back along the way looking for rolling stores. Wouldn't you know, when I hitched a ride on the store truck I found a story or two by way of Pap. Seems he's always got a story for me no matter the subject.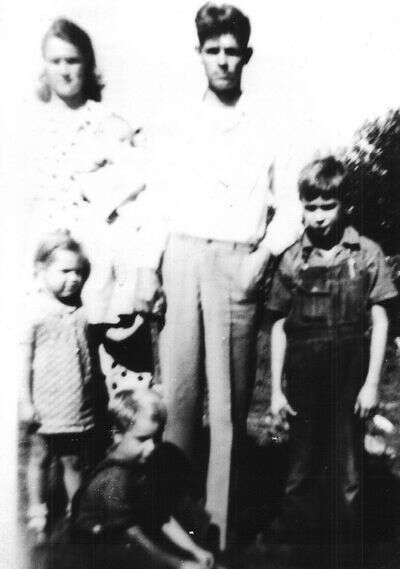 Pap's family: Marie holding Henry, Wade, Carrie, Ray, and Pap in his overalls
Since most of the places Pap's family lived when he was a boy are within driving distance (if not walking) he's taken me to more than a few of them over the years. You may remember the place he lived on Cook Road-the place where he was scared in the moonlight.
The house had 3 rooms with a fireplace for heat and a wood cook stove. WWII had been over for a few years and things seemed to be picking up even here in Brasstown. Pap's father, Wade, was offered a job share cropping the old Brown place over on Pine Log.
In early summer they moved from Cook Road to an old house in Calley Cove that had 3 rooms too, but the rooms were larger. Even better the old cabin had a covered porch along the length of it. The house sat under a white oak as big as a wagon wheel. There was even a can house and a big barn. But the best part about the new place was that it was on the sunny side of the mountain, not in a dreary damp place like the house they'd just left.
The Brown place was less than a mile away, so Wade didn't have too far to travel back and forth. Things were going good for Pap's family. His father also did some farming for Pap's aunt and uncle, Ina and Bill Penland. Pap didn't say it, but I'm thinking his mother Marie liked being only a mile away from her sister Ina. And I know from the stories I've heard that a true bond of friendship was made during that time between the two sister's children.
The house in Calley Cove didn't have a fireplace nor a cookstove. The cookstove wasn't an issue since they were able to bring the one from Cook road with them. But as summer turned into fall the lack of a fireplace for extra heat became a problem. You'd think a cook stove would be enough to heat a little 3 room cabin, but I'm sure most of the heat went straight out the un-insulated walls.
Wade came up with the money to buy a woodstove-Pap thinks it was 26 dollars. He put in an order for Bennetts Rolling Store to bring him one as soon as they could. Finally the day arrived. Pap said it was an exciting time for them all.
Now this is the part of the story that tugs at my heart.
When Wade went to meet the store truck he didn't have anything to haul the stove home on.
All these years later, who can say why. Maybe he didn't have an animal to pull a sled-maybe he didn't have a sled-maybe he didn't want to put someone else out by asking to borrow theirs.
Pap doesn't remember the why, but he remembers the how.
Wade directed the store man to help him put the stove on his back. The man didn't want to comply with the request, the driver warned Wade he'd hurt himself, warned him there was no way he could make it home. Now my Papaw Wade wasn't a large man, he wasn't much taller than me (I'm 5'5) and he couldn't have weighed much more than me either.
Pap remembers how his Daddy started off for home with that stove on his back. He traveled a ways and then backed up to a bank so he could shift the load off. Pap remembers after his Daddy folded a coat and placed it on his shoulder he backed up to the bank and wrangled the stove to his back and started off again.
Pap remembers how after going a bit farther, his Daddy finally realized he'd bit off more than he could chew. After the stove was once again set on a bank, they went for a horse and sled that carried the load the rest of the way home.
I've pondered Papaw Wade trying to carry that stove a blue million times since Pap first told me the story. You'd think only a crazy person would try to carry a stove, but see I know Papaw Wade wasn't crazy, he was actually a very smart man. So why did he attempt such a herculean task?
Because his family needed a stove; because he had an independent spirit that made him want to take care of things on his own; because he didn't want to put someone else out by asking for their help; because he saw what needed to be done and went at it like fighting fire.
This story about Papaw Wade trying to carry a stove home to his family and GW Newton's story of his Mother figuring out how to get her own lightered wood splinters when she needed them inspire me. Both show the determination and goodness that can dwell within us humans.
In today's world there's no need for carrying stoves on your back nor crawling under the house for splinters, but there are still obstacles. There are still hard times in my Appalachia and there are still people rising above them for their families. And you know what? That's just as cool now as it was way back then.
Tipper
p.s. This post was originally published right here on the Blind Pig and The Acorn in 2012. I've had Papaw Wade and his wood cutting on my mind the last few days and thought I'd share the post with you again.